CAMPUS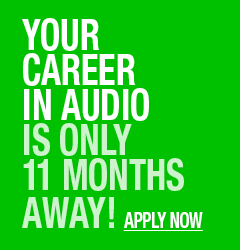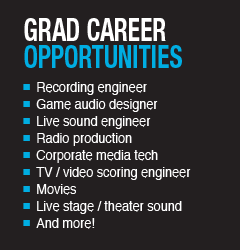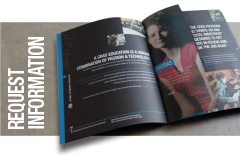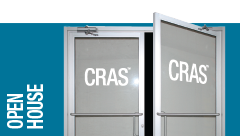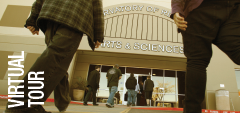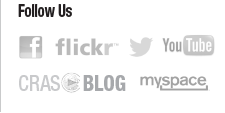 Sound reinforcement as applied to arenas, ballparks, concert halls, theatres, corporate events and Houses of Worship is a significant segment of the overall audio industry, and the CRAS curriculum reflects this importance.
In our purpose-built Live Sound Venue, students are given instruction and hands-on training on large line array speaker systems. They also learn how to use software to tune and manage these systems in their various environments.
Located on the Gilbert campus, the CRAS Live Sound Venue features professional lighting and staging. Covering 6,000 sq/ft, the Venue's audio centers around the L-Acoustic Kudo System — the same system that is set up in the Great American Music Hall in San Francisco, Hard Rock Live in Orlando and Resurrection Life Church in Grandville, Michigan.
Our Live Sound Venue features regular meetings, seminars and performances by local bands and is the perfect setting for students to learn about live sound recording and reinforcement.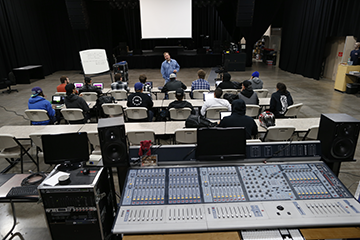 CRAS Live Sound Venue Gear
Console
Digidesign D-Show Venue System
Yamaha PM 3500
Loudspeakers
L-Acoustic Kudo Active
3way Enclosures (12)
SB 218 P Series Subwoofers

Outboard Dynamics
Drawmer DS201
Drawmer DI241
Aphex Expander / Gate (4)
Aphex Expressor (4)
Behringer T1952 Tube Composer
DBX 900 Series

Outboard EQ
Klark-Teknik DN3600
Klark-Teknik DN300 (5)
Klark-Teknik DN260 (3)

Outboard Processors
TC Electronic D-TWO
Yamaha SPX 900
Yamaha SPX 90 II
Yamaha SPX 90
Roland SDE 1000
Ensoniq DP/4

Crossovers / Drive Boxes
JBL 480 Drive Rack (2)
BSS FDS 388 Omni Drive
Yamaha D2040
Klark-Teknik DN 716 Delay
Klark-Teknik DN8000
Yamaha 2x8 Crossover

Amplifiers
LA 8 Class TD Amplifiers w/ LA Network Manager
QSC RMX 1450 (8)
Hafler 1400

Monitor System Console
Yamaha PM 4000M
Roland M 400 V Mixer

Monitor Loudspeakers
Community XLT46 Three-Way

CRAS Grad
Career Opportunities
Recording engineer
- Music
- Soundtracks
Game audio designer
- Video games
- Apps
- Mobile audio
Live sound engineer
- Concerts
- Stage monitors
Radio production
- Location remotes
- Live radio
Corporate media tech
- Hotels
- Conference centers
- Boardrooms
TV/video scoring engineer
- Background music
- Voice over/narration

Movies
- Foley engineer
- Dialog replacement
- Sound effects

Manufacturer's specialist
- Product rep
- Product specialist

Environmental sound design
- Malls
- Airports
- Public spaces

Live stage/theater sound
- Musicals
- Drama
- Lectures

And more!