THE PROGRAM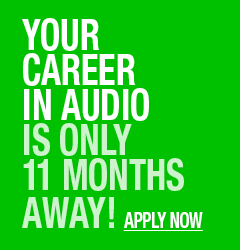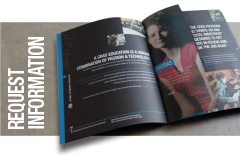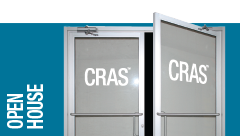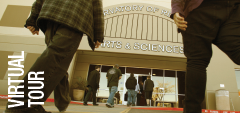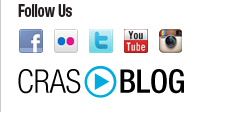 The majority of the CRAS curriculum is dedicated to music and audio production.
MRP II is a 41.50 credit program, taught over 48 weeks. On-campus hands-on study consists of 36 weeks and internships over a 12 week period. Classes meet Monday through Friday for four hours per day. There are additional hours scheduled on Saturdays and/or Sundays. Students may also be required to complete assignments outside of classroom studies.
Our objective is to train students for entry-level positions in a variety of areas of the music, audio and recording industry. An education from CRAS is well rounded and prepares you to enter into the world of audio – "the career of your dreams."
Master Recording Program II (MRP II)
Music Recording and Production - 15.00 Credit Hours
Introduces students to the basic principles of audio recording and production through classroom lecture plus hands-on experience with guided and individual studio projects. Student must exhibit a working knowledge of audio concepts, facilities and gear handling as a requirement for graduation. Emphasis is on training for an entry-level position as an assistant engineer in a music production studio.
MP101 Music Recording and Production
Basic Principles of Sound
Microphones and Microphone Techniques
Equipment
Recording Lab
Basic Recording Techniques
Automated Consoles
Music Production Employment Opportunities

MP201 Music Recording and Production
SSL Console Operation
Advanced Recording And Production Procedure
Time-Based Processor Method
Dynamic Processor Application
Session Etiquette and Procedures
Reference Monitor and Amplifier Instruction
Acoustic Theory and Facility Design
Resume and Internship Preparation
Networking
Digital Audio Production Techniques
Tape Machine Calibration And Alignment
Advanced Dynamics Applications

---
Audio Industry Business - 2.00 Credit Hours
Offers students an overview of the music industry, including copyright law, publishing and song income, contracts, record production, record labels, scams and dangers, personal finance and many other industry-related topics.
AB101 Audio Industry Business
Introduction to Music Business
Publishing & Music Income
Copyright Part I
Copyright Part II
Studio Ownership, Record Production
Record Labels
AB201 Audio Industry Business
Introduction to Advanced Business
Record Labels
Audio Engineering – The Business
Audio Engineering – The Profession
Trademarks, Recording Engineer Contracts
Self Representation And Marketing
---
Core Technologies - 3.50 Credit Hours
Core Technologies 101 provides students with a basic understanding of various technologies that are fundamental to a variety of disciplines within audio production. Basic electronics, analog and digital audio, control protocols and fundamental computer and networking technologies will be explored in the context of audio production. Students will also see and use these systems in a variety of practical applications. During this course students will make extensive use of their laptop recording package, including Apple's Logic Pro audio production software.
CT101 Core Technologies
Basic Electronics
MIDI Fundamentals
Computer System Technologies
Fundamentals Of Digital Audio
Synchronization Systems
Computer Networking
Digital Storage
System Design & Troubleshooting

---
Surround Sound - 1.00 Credit Hour
Surround Sound classes will be held in the Studio D control room, which was designed specifically for surround sound production applications. Students will learn the basic principles of system configuration, encoding/decoding as well as surround sound mixing and recording techniques for various audio production applications.
SS101 Surround Sound
History of Surround Sound
Playback System Configuration
Surround Mixing
Encoding/Decoding
Surround Sound Signal Processing
Surround Sound Recording

---
Pro Tools - 4.00 Credit Hours
Utilizing the latest Pro Tools software, students will deal with session and system configurations, audio recording, track and file management,session navigation,and editing of dialog,music, and sound effects. Students will work with real-time and offline plugin processing, mixing options and workflows, auxiliary sends and returns, session I/O management, automation, and mix finalization.
PT101 Pro Tools
Introduction to Pro Tools Systems and Windows
New Session Configuration
Editing, Track Comping, and Fades
Importing Files
Managing System Power for Pro Tools
Session Backup and Collaboration
Signal Processing
MIDI in Pro Tools
Automation and Final Mixes
Troubleshooting Pro Tools
Sound Design in Pro Tools
Control Surfaces
---
Live Sound - 2.50 Credit Hours
Prepares students to function effectively in the concert sound reinforcement field. Includes overviews of sound reinforcement specific equipment, basic front-of-house and monitor system configurations and design and philosophy.
LS101 Live Sound
Introduction
Signal Distribution
Sound Reinforcement
Mixing Console
Signal Processing in Sound Reinforcement
Large Speaker Array Concepts

LS201 Live Sound
Introduction to the Digidesign Venue D-Show Console/Console Setup
Hands-On, Front-of-House and Monitor Mixing
Wireless Concepts
Live Theater
---
Post Production - 2.50 Credit Hours
Post Production projects teach students the basics of audio sweetening and surround sound mixing for film. Commercial Production projects inform students of professional level production techniques and prepare them for a wide variety of recording industry employment options.
PP101 Post Production
Production Audio
Automated Dialogue Replacement (ADR)
Foley
Sound Effects
Scoring
Mixing
Basics Of Video And Editing
Commercial Production
Commercial Production Techniques And Projects
---
Broadcast - 1.50 Credit Hours
Broadcast Audio focuses on the opportunities and workflows and technologies that are specific to live television broadcast. Students will work out of the CRAS Broadcast audio production room as well as the CRAS mobile production trailer and be hands-on with the Studer broadcast audio mixing consoles. They will also gain an extensive understanding of the important role that communications systems have and get hands on experience with the industry standard RTS line of communications products, including configuration of the system using AZ Edit software installed on their laptop computer.
BA101 Broadcast Audio
Intro To The Broadcast Audio Industry
Communication Systems
Broadcast Audio Mixing
Live Broadcast Event
---
Game Audio - 1.00 Credit Hours
Students will see first hand how sound is integrated into video games. Using Audiokinetic's Wwise audio engine, students will participate in a team based project where the class must integrate all sounds into a playable video game.
GA101 Game Audio
Subject Introduction To The Game Audio Industry
Audio Engines
Memory And Performance Budgets
Game Project

---
Field of Focus - 1.50 Credit Hours
For this class, students will declare their field of focus, such as live sound, studio recording, broadcast audio etc., that represents the sector of the audio industry in which they are going to complete an internship. They will then work with their instructor to develop a plan of action that includes completing various assignments that pertain to that facet of the industry. Assignments include completing certifications on particular equipment, developing a personal portfolio of work or completing related production projects. While students will work as individuals, the course is designed to emulate a team based work environment where workers can use each other as a resource and as a system of accountability.
FF101 Field of Focus
Field Of Focus Declaration
Plan Of Action
Team Accountability
Life Skills
Advanced Audio Techniques

---
Internship - 7.00 Credit Hours
Further practical application of skills and techniques in the industry. Students will face a variety of challenges ranging from facility support duties to working with actual clients.
IN101 Internship
Completion of Internship duties
Various audio tasks including demonstration of studio skills
MRP II - TOTAL CREDIT HOURS 41.50
CRAS Grad
Career Opportunities
Recording engineer
- Music
- Soundtracks
Game audio designer
- Video games
- Apps
- Mobile audio
Live sound engineer
- Concerts
- Stage monitors
Radio production
- Location remotes
- Live radio
Corporate media tech
- Hotels
- Conference centers
- Boardrooms
TV/video scoring engineer
- Background music
- Voice over/narration

Movies
- Foley engineer
- Dialog replacement
- Sound effects

Manufacturer's specialist
- Product rep
- Product specialist

Environmental sound design
- Malls
- Airports
- Public spaces

Live stage/theater sound
- Musicals
- Drama
- Lectures

And more!