THE PROGRAM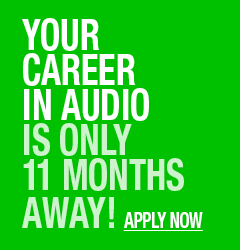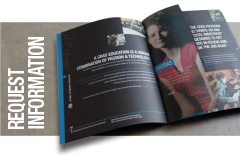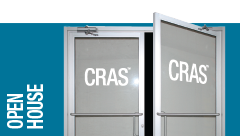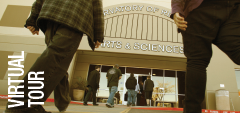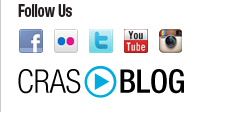 The majority of the CRAS curriculum is dedicated to music and audio production.
CRAS Master Recording Program II (MRP II) is a 42.0 semester credit program, taught over 48 weeks. On-campus hands-on study consists of 36 weeks, and internships are completed over a 12 week period. Classes meet Monday through Friday for four hours per day. There are additional hours scheduled on Saturdays and/or Sundays. Students may also be required to complete assignments outside of classroom studies.
Our objective is to train students for entry-level positions in a variety of areas of the music, audio and recording industry. An education from CRAS is well rounded and prepares you to enter into the world of audio – "the career of your dreams."
ACADEMIC PROGRAM INFORMATION
Master Recording Program II
Course
Credit
Music Production - MP100
8.50
Music Production - MP200
9.00
Music Production - MP300
1.50
Multimedia Technologies - MT100
4.00
Audio Business - AB100
1.00
Audio Business - AB200
1.00
Core Technologies - CT100
3.50
Pro Tools - PT100
4.00
Live Sound - LS100
2.00
Live Sound - LS200
1.50
Internship - IN101
7.00

All courses include Review and Final Examinations


Total Program Credit Hours:
42.00
Total Program Weeks:
48 weeks
Certifications
Antares AutoTune
Apple Logic Pro
Audiokinetic Wwise
Avid Venue
Celemony Melodyne
L-Acoustics Soundvision
Pro Tools Tier 1-6
Propellerhead Reason
Rational Acoustics Smaart
Roland V-Mixer
Studer Vista
TC Electronic M3000
TC Electronic S6000
Waves Certification Bundle
Course Synopsis
Music Production - MP100/8.5
Introduces students to the basic principles of audio recording and music production through classroom lecture, and handson training, as well as guided and individual studio projects. Students learn about the principles of sound, signal flow, microphones, mic placement techniques, dynamics, large format consoles, and the entire recording process. Student must exhibit a working knowledge of audio concepts, facilities, and gear handling as a requirement for completion. Emphasis is on training for an entry-level position as an assistant engineer in a music production studio.
---
Music Production - MP200/9.0
Introduces students to the Solid State Logic 4000 E/G+ series console and computer, including theoretical console and computer study, pre-production, tracking, overdubbing, and mix down sessions. Students will practice extensive signal flow overview through application classes and clinics. Students will continue to refine the skills necessary to obtain a job in the audio industry through advanced recording and mixing clinics, using analog and digital recording mediums, and adding skills like automation. MP200 also exposes students to Post Production and Commercial Production. Through hands-on applications, students will recreate all audio elements for film and television projects using professional production techniques designed to prepare them for a wide variety of recording industry employment options.
---
Music Production - MP300/1.5
Introduces students to hybrid console technologies using the SSL AWS948 console and Pro Tools recording software. Students will engage in tracking, overdub, mixing, and mastering clinics. Clinics will start to introduce the concept of a "producer" into the room, providing students the most accurate real-world recording scenarios. MP300 classes will also teach students to start planning for internship and industry life, incorporating classes on personal networking, budgeting, and job interview techniques.
---
Audio Business - AB100/1.0
Offers students an overview of the music industry, including copyright law, publishing and song income, contracts, record production, record labels, scams and dangers, personal finance and many other industry-related topics.
---
Audio Business - AB200/1.0
Continuing the concepts introduced in AB100, AB200 classes focus on a deeper examination of the audio industry. Includes in-depth study of songwriting, recording and other contracts. Also examines trademark law, practical application of copyright law, contracts for engineers, career planning, interview techniques, industry etiquette, industry-topic forums and discussions.
---
Core Technologies - CT100/3.5
Provides students with a basic understanding of various technologies that are fundamental to many disciplines within audio production. Basic electronics, analog and digital audio, control protocols and fundamental computer and networking technologies will be explored in the context of audio production. Students will also see and use these systems in a variety of practical applications. During this course students will make extensive use of their laptop recording package, including Apple's Logic Pro audio production software.
---
Pro Tools - PT100/4.0
Utilizing the latest Pro Tools software, students will learn about session and system configurations, audio recording, track and file management, session navigation, and editing of dialog, music, and sound effects. Students will work with real-time and offline plug-in processing, mixing options and workflows, auxiliary sends and returns, session I/O management, automation, and mix finalization. PT100 is accompanied by three hands-on proficiencies where students will demonstrate the skills learned in a practical, real-world environment. Optionally, students can attempt another 5 certifications in Pro Tools outside of class time.
---
Multimedia Technologies - MT100/4.0
Multimedia Technologies exposes students to a variety of additional employment opportunities in the audio industry. Classes cover surround sound, audio for video games, and live broadcast audio. Once considered non-traditional audio subjects, Multimedia Technologies are quickly becoming the largest employment fields in the audio industry. Surround Sound classes give students a hands-on opportunity to learn about surround recording and mixing along with an emphasis on the fundamentals of encoding and decoding audio for multiple delivery formats, such as video games and Blu-Ray. Students will learn how to incorporate audio into video games using Audiokinetic's Wwise audio engine. This industry standard software is used on video games by almost every major game company. Students will also be exposed to the fast paced world of live broadcast audio. All sound heard on sporting events, evening news shows, and talk shows is called broadcast audio. Students will use the Studer Vista mixing console along with RTS AZ Edit configuration software to create their own live video broadcast event.
---
Live Sound - LS100/1.0
Prepares students to function effectively in the live sound reinforcement field. Includes overviews of sound reinforcementspecific equipment, basic front-of-house and monitor system configurations, design and philosophy. Live Sound teaches students how to setup small club PA systems, churches, and even large concert arenas. Due to the loud nature of the Live Sound environment, hearing conservation and protection is covered extensively.
---
Live Sound - LS200/1.5
Prepares students for complex issues in sound reinforcement via the use of state-of-the-art technology and concepts, such as spectral and FFT analysis, as well as shows control via multiple automation protocols. Also introduces the student to basic wireless transmission concepts and technology for wireless microphone, instrument, and monitor technologies. Students will use these tools for both music production and live theater applications.
---
Internship - IN100/7.0
Offers students the opportunity to obtain an internship at a facility of their choosing. Students on internship will apply their education to a variety of challenges ranging from facility support duties to working with clients. In preparation for internships, students will have classes and assignments focusing on resumes, interview techniques, internship etiquette, and industry networking.
CRAS Grad
Career Opportunities
Recording engineer
- Music
- Soundtracks
Game audio designer
- Video games
- Apps
- Mobile audio
Live sound engineer
- Concerts
- Stage monitors
Radio production
- Location remotes
- Live radio
Corporate media tech
- Hotels
- Conference centers
- Boardrooms
TV/video scoring engineer
- Background music
- Voice over/narration

Movies
- Foley engineer
- Dialog replacement
- Sound effects

Manufacturer's specialist
- Product rep
- Product specialist

Environmental sound design
- Malls
- Airports
- Public spaces

Live stage/theater sound
- Musicals
- Drama
- Lectures

And more!