Living On The Digital Edge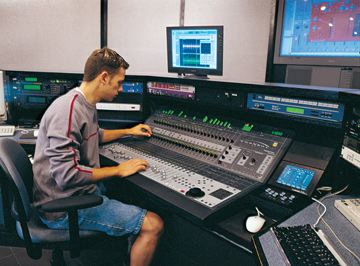 A Conservatory education prepares students for what is going to happen next, not just what is currently happening. This forward-looking philosophy is the reason Studio D was born. Digital technology is here to stay and at some point will account for the majority of audio and video surround work being done. The Conservatory's Studio D tackles both fronts by featuring mostly digital signal flow in a 5.1 surround mixing environment. Emphasis is on real-world skills, so students learn how to get digital signal from A to B, and also gain experience in how to fly-in, edit, and mix sound effects, dialogue, and music.
The room is centered around a Digidesign Pro Tools 5.1 Mix24 System that is controlled by a Focusrite/Digidesign Control|24. The control surface features16 high-quality Focusrite microphone pre-amplifiers and gives Pro Tools the hands-on feel and functionality that engineers working at the best studios in the world prefer.
For monitoring, Studio D utilizes five Hafler Professional TRM-8 monitors for front-left, front-right, surround-left, surround-right, and center channels. The low end is handled by two of Hafler's TRM-12 twelve-inch subwoofers.
Waves Pro Tools plug-ins are used for signal processing within the confines of the computer and a T.C. electronics System 6000 is the featured outboard digital signal processor. The S-6000 is a device that was designed with post-production in mind and many of its algorithms have already been lauded by post professionals as being "the" box for film and TV work.
With the gear and knowledgable instructors to teach its use, the Conservatory's Studio D will help launch students into promising careers on the new horizon of digital audio.



---

A Message From The Administrator

Conservatory administrator Kirt Hamm touches on why, now more than ever, a solid education in the basics of recording technology puts students on the fast track to success.

http://www.audiorecordingschool.com/administrator.html






---

Visit the Headline Archive - See student and faculty profiles, facility spotlights, news and more.
Apply To The Conservatory Online - Our easy-to-use online admissions form makes it simple to get a Conservatory education.