Meet The Students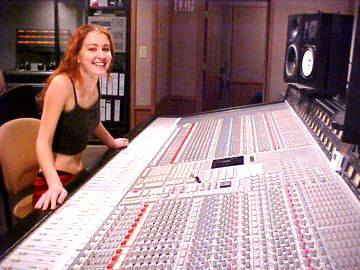 Teresa Frame
Age: 23
Hometown: Akron, OH
Last School Attended: Kent State University, Art Education Major
Last Book Read: Anne Rice's Pandora
Favorite CD: Anything from Johnny Cash and Meshugoah, Chaoas Spear
Most Recent Concert Attended: Willie Nelson on Halloween 2001

What made you choose the Conservatory?
I was impressed by the extensive curriculum.
What do you expect to get out of your Conservatory education?
The education is broad enough to give me the skills I need to excel in the industry.
What do you think so far? Has the school met your expectations?
I love it! It feels kind of like home. CRAS has completely exceeded my expectations.
What most excites you about a career in audio?
Just simply being able to work in the music industry and doing something I love.
Where do you see yourself in the next five years?
Making a name for myself in the music industry.
What did you do for a living before attending the Conservatory?
I worked a 9 to 5 job . . . boring boring boring!
What other recording schools had you considered besides the Conservatory?
I examined quite a few, but CRAS had the most to offer by far.
Why did you choose NOT to attend them?
Because they were more expensive and had less to offer.
How much prior experience did you have coming into the school?
I've been exposed to some but didn't really know how it all works.
What is your dream goal?
To own my own label, production company, studios, and make Cleveland rock!
How does the Conservatory fit into your plan for success?
When I establish myself, CRAS & I will take over the industry!
Who is your favorite teacher on staff?
They are all great and extremely knowledgeable.

Photo caption: Teresa at the SSL 4056G+ in Studio A



---

Instructor Profile: Robert Brock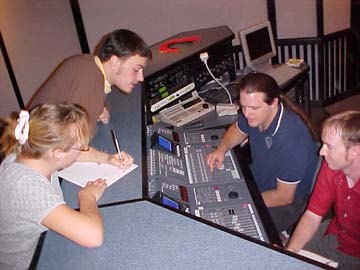 Robert Brock is one of the reasons why Conservatory instructors are some of the best in the business. He's an industry pro himself with deep experience in recording, production and music. Read on for a look into the life of Robert Brock
How long have you been an instructor at the Conservatory, and what got you started in audio education?
My first day of teaching was on my 22nd birthday, June 25th 1992. That makes it about hmmm, I don't know, I'm not very good with numbers ;-)

Aside from being an instructor, you are an accomplished keyboard player and arranger. Tell us about your musical background.
I started playing piano when I was 7, and studied (but not that seriously) for most of my youth. When I was 9 I took up violin and studied classically with quite a bit of intensity. For a while my vision was to be a classical violinist. Then I found synthesizers and Rock & Roll. By the time I was 16 I was gigging with a working top 40 band playing keyboards. It was all pretty much down hill from there.

What classes do you teach at the school?
Digital recording technologies (MIDI, digital audio, hard disk recording etc.) as well as Surround Sound

What do you find most interesting about the new recording technology that has sprung up in the last few years?
The way that technology has changed the process of making a recording. When technology gives you a 6db better signal to noise ratio, that's cool, but it doesn't change theway you work. Now, technology is constantly changing the way you approach a project.

What do you think are the most valuable attributes that a student can have when venturing into a career in audio?
Attitude is Everything! Be on time and be serious about your future and education.

Where do you see audio recording going in the next 5 years?
Analog tape, lots of solid state electronics, and maybe a couple of cans with some string.

What other things do you do besides teaching at the school?
I play keyboards with recording artist Esteban. In addition to all the records I've done with him in the past few years, we've recorded 9 CDs worth of music since January. A lot of it is sold on the Home Shopping Network plus we have a busy gigging schedule. Apart from that and teaching, I've been working a lot with manufacturer relations and doing a lot of beta testing for Tascam. For instance I've got the new DM24 digital workstation which is very hip. I'm also testing the new MXView software, which makes the MX2424 a whole new box

If you had a time machine and could bring one piece of audio gear back from 100 years in the future, what would that be?
A talent fader!

Photo caption: Robert (second from right) and students in Studio D



---

Studio A's SSL 4056G+: The Console With A History

The SL 4056G+, now in Studio A at the Conservatory, was once housed at the Record Plant in Sausalito California. This console carries a legacy as a hitmaker for Metallica, Dave Matthews and many more.

http://www.audiorecordingschool.com/studios.html




---

Visit the Headline Archive - See student and faculty profiles, facility spotlights, news and more.
Apply To The Conservatory Online - Our easy-to-use online admissions form makes it simple to get a Conservatory education.