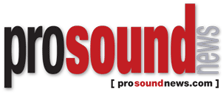 News

Audiokinetic Partners With CRAS

Montreal, Canada (February 2, 2007)--Audiokinetic Inc., an audio solution provider for the video game industry, announced its first educational partnership today--with the Conservatory of Recording Arts and Sciences. As part of the partnership, the Conservatory is creating the first Manufacturer's Certification curriculum for Wwise, Audiokinetic's audio pipeline solution.
The Conservatory offers a comprehensive audio production training curriculum and recently launched a three-week course on audio for video games. By choosing Wwise to be at the center of this course, the Conservatory became the first academic institution to teach the audio solution. "For us, Wwise was a natural choice," said Kevin Becka, Director of Education at the Conservatory. "Prior to Wwise, making audio for video games was very much like trying to make a movie by developing your own film stock and grinding your own lens."
After teaching Wwise for a short time, the Conservatory decided to offer an extended version of the audio for games course to professionals working in the game development industry. "We believe that the opportunity for learning Wwise should not be limited to our students," Becka added. "The entire industry could benefit from learning and using Wwise. With Audiokinetic's agreement and support, we're developing a Manufacturer's Certification conceived for working professionals." The curriculum, which will be based on Wwise 2007.1, will be a two-tier certification course designed to address the needs of two primary types of Wwise users: game studios and content providers.
President and CEO of Audiokinetic, Martin H. Klein, said, "With more and more game studios adopting Wwise as their audio solution, there will be a growing demand for qualified users. Forming a partnership with an academic institution was the next logical step for Audiokinetic. The Conservatory is renowned in the industry, and people there are professional and passionate, so we consider it a huge opportunity to strengthen our relationship with them."
Another outcome of the cooperation between the Conservatory and Audiokinetic will take the form of training sessions to be offered jointly at the Game Developers Conference in March 2007.
Audiokinetic
www.audiokinetic.com
The Conservatory of Recording Arts and Sciences_
www.cras.org