CRAS graduate gets pro audio start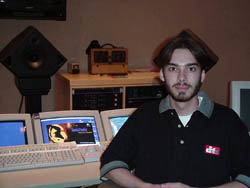 TEMPE, AZ " Jeff Perkins attended The Conservatory of Recording Arts & Sciences (CRAS) in Tempe, hoping to some day work in the pro audio field.
Upon completion of his schooling, Perkins was able to land a position with Digital Theater Systems (DTS). He graduated from his high school in Texas ahead of schedule in order to attend The Conservatory, taking part in its 37-week program, and then completing a mandatory 280-hour internship.
The Conservatory's curriculum is designed to provide students with access to all of the facility's studios, including Studio D, CRAS's new, 5.1 surround mixing suite.
While at CRAS, Perkins worked with Digidesign's Pro Tools, Solid State Logic's SL4000 console, Hafler referencing monitoring systems, and TASCAM digital mixers and recorders.
He later heard through the grapevine that DTS had an assistant position opening up, and applied for an internship there. Upon completing the mandatory internship, DTS offered Perkins a temporary position as an audio assistant in the mastering department, working on DVD encodes and transfers. That quickly turned into a full-time job as an audio engineer, where he continued to work on DVD encodes, editing, mastering and transfers. Six months later, Perkins was offered the position of studio engineer, consulting at the dub stages for DTS. He also works at Todd-AO in the DTS office there.
His position entails recording the printmasters for feature films and processing encodes at Todd-AO. According to Perkins, "I create the master DTS print and go back to the studio to check sync. From there it's sent out to production. Some of the projects I've worked on so far include: Gladiator, Sleepy Hollow, Josie and the Pussycats, Shrek, Atlantis, The Mexican, Terminator 2, Luiz Miguel , Vivo, Cirque Du Soleil, Studio Voodoo, Slackers and several IMAX films."
29-Jan-02