L.A. Grapevine
By Maureen Droney


Mar 1, 2005 12:00 PM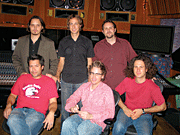 The 88, serendipitously in front of the Village's Neve 88R. From L to R (standing): producer/engineer Ethan Allen, keyboardist Adam Merrin and drummer Mark Vasapolli, (seated) bassist Carlos Torres, singer/songwriter Keith Slettedahl and guitarist/percussionist Brandon Jay
'Twas the week before Christmas and everybody was winding down — except for The 88, that is, who were hard at work in The Village's Studio D. The five-piece L.A.-based pop/rock outfit looked surprisingly fresh considering that the previous night they'd been Jimmy Kimmel Live's musical guests, and that several bandmembers had also pulled an early morning gig with their alter ego, children's group Gwendolyn & The Goodtime Gang, before heading to The Village for tracking.
For an "unsigned" band, The 88 (www.the88.net) has amassed a stellar roster of accomplishments. Their first CD, Kind of Light, was a Record of the Week pick by Radio and Records, Tower Records.com and Virgin Mega magazine, with cuts airing on Fuel TV and MTV2, and U. They're also music supervisor darlings, with songs in Get Shorty 2: Be Cool and Surviving Christmas, as well as on soundtracks for The OC, Dawson's Creek and JAG. They have a song — alongside Jet and the Dandy Warhols — on the hit Warner Bros. CD Music From the OC soundtrack, are championed by taste-making L.A. radio station KCRW and were voted Best Band in Los Angeles by the L.A. Alternative Press. All of that should be enough to swell some heads, but instead, The 88 remain a rather shy bunch.
"This band works hard," understates producer/engineer Ethan Allen (Gram Rabbit, Tricky, Luscious Jackson), who's hooked up with The 88 for their sophomore effort. "I don't think we've done a recording date where there hasn't been some other gig on the same day. Our recording schedule's difficult, but they organize it very well."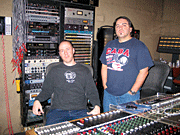 At Westbeach, from left: studio manager/engineer Seth Hum and producer/engineer Dave Dominguez, who was in working with Project Spiral for Platinum Artist Records
Allen calls the project a blend of "high- and lowbrow recording." Much of it was recorded in his personal studio; in The Village's capacious Studio D (which had just been vacated by Trent Reznor and Nine Inch Nails), the band was enjoying the ability to spread out and record live. "It's great to be able to play with isolation booths and different places to put stuff," Allen remarks. "Brandon [Jay] plays acoustic guitar that goes through an amp, Adam [Merrin] is playing the acoustic grand piano and they were able to get their own spaces. We're also using the echo chamber room, leaving its door open to let the drums leak in."
While The 88 is influenced by some of history's coolest bands [The Kinks, The Beatles, The Band], their sound is their own. Songs are melodic and full of hooks, with expertly offbeat arrangements and playing by pianist Merrin, bassist Carlos Torres, drummer Mark Vasapolli and acoustic guitarist/percussionist Jay. Ultimately, however, it's singer Keith Slettedahl's stream-of-consciousness lyrics that draw you in.
"Keith will usually have an idea for a song," explains Merrin. "Sometimes, it's a complete idea with lyrics and a melody; other times, it's unfinished or needs a little help with the arrangement. Brandon is very good with that part, and during the making of this record, Ethan also contributed many great [arrangement] ideas. He's also been very helpful in making some of our ideas complete. He's a perfect fit for this band."
"To me, the identifying, central part of this band is the writing," comments Allen. "It's about songs. That seems ridiculous to state, but so much music isn't really solid songwriting. With The 88, the music is pop and familiar, but there's always something just a bit twisted. There's a very definite character that comes from telling stories. It's not a band that jams. They have something to say, and they have great common instincts that support the songs' ideas without stepping on them.
"It's inspiring to work with a band with such unflinching commitment to their music. I ask a lot from them. They respond and reach beyond their normal limits, and I feel compelled to do the same, which is really the way it should be!"
Westbeach Recorders isn't West, and it isn't Beach either, but it is a uniquely cool place to record. Although its official address is on busy Hollywood Boulevard, it's actually tucked away behind other storefronts and feels very private. The first thing you encounter after walking through the gate is an enclosed patio, complete with a barbecue. Inside, CD jewel-box wall art reveals the studio's history: recordings by such notables as Bad Religion, Offspring, Rancid, Mazzy Star and Sublime.
The facility is currently owned by engineer/producer Donnell Cameron, whose own long roster of credits includes Sublime, Blink-182, Wayne Kramer, Bad Religion, NOFX and Reel Big Fish, among many others. In 2005, Westbeach celebrates its 20th year in business, although not all of those years were at the same location. Founded in 1985 by guitarist/Epitaph Records owner Brett Gurewitz and John Girdler, the facility's original location was in Venice — much further west, and much closer to the beach. In 1987, Girdler left the business, Cameron came onboard and the company moved to its first Hollywood location. In 1991, it moved again to its present location, a one-room facility originally built in the early '60s and through the years, owned by, among others, producer Mike Curb and a manager of Liberace. It was also formerly the site of the Producer's Workshop, where, among many well-known projects and live-to-2-track sessions, in 1979 a portion of Pink Floyd's The Wall sessions were recorded.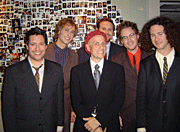 The 88 hang backstage with Bob(cat) Goldthwait (in red hat) after Jimmy Kimmel Live photo: josh mills
photo: Josh Mills
Since Westbeach took over, the 38×23-foot live room has been carefully restored to its classic '60s style and sound. "When we moved in, the floor was carpet and the ceiling's acoustic tiles had been painted," recalls Cameron. "We pulled up the rug, then researched and found replacements for the original floor tile. But then, because they'd changed the surface of the original ceiling by painting it, there was flutter echo. We had to hunt for the original type of random-holed acoustic ceiling tile, which we finally found up in Washington."
In keeping with the room's original era, Cameron has amassed a large collection of vintage gear, including a '60s Gretsch drum kit, a B3 organ with Leslie, a Mastering Room dual spring reverb, an EMT 240 gold foil reverb, various ribbon and tube mics, and — from Electrovox Studios — curved wooden baffles and hand-built tube mic pre's, circa 1930. There's much more: a large complement of good compressor/limiters and effects, a Kawai grand piano, instruments, amps, and both analog and Pro Tools|HD recording. The console is from the mid-'80s: a 64-input Trident 80B.
With Gurewitz as a partner, it's no surprise that many Bad Religion records and projects by other Epitaph Records artists were cut at Westbeach. Through the years the studio developed, it became legendary among punk rock fans. In 2004, Gurewitz — busy juggling touring and recording, label ownership and producing — was bought out by Cameron, who subsequently hired Seth Hum, a producer/engineer with his own record company (Fallen Angel Records) to manage the studio. Rounding out the current staff are engineers Chris Gresham and Ben Meyer.
In addition to acting as a regular commercial studio, Westbeach offers recording packages that include producer, engineer, instruments and specialized gear. "There are a lot of people who recognize the quality of Westbeach," says Hum, a graduate of the Conservatory of Recording Arts whose first choice for an internship was Westbeach. (He didn't get it, ending up at Epitaph Records instead.) "A lot of people like me grew up listening to music that was recorded here. And it wasn't just punk; a really broad base of music was recorded in this place, from Ray Charles to Fleetwood Mac. We've got a lot of good energy going on, with a staff that's dedicated, skilled and very much into quality. We pour our hearts into keeping this place in great shape."