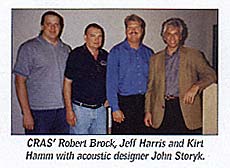 In October; respected studio designer Jon Storyk of the Walters-Storyk Design Group visited the Conservatory of Recording Arts & Sciences to present a lecture to students and faculty about the architectural and acoustic design of critical listening environments. Storky presented an overview of acoustic theory and studio design, which included the importance of the planning stage, using room-within-room designs to achieve isolation, and using room dimensions, symmetry, absorption, and diffusion to achieve good internal room acoustics.

Storyk also talked about many of the studios he has designed and concluded by discussing future trends in architectural and acoustic design. His lecture, attended by several hundred students and faculty, is the latest in a long line of presentations at the Conservatory by prominent industry leaders.

"It's great to see someone like John giving back to the audio community by sharing his knowledge," said Kirt Hamm, Conservatory of Recording Arts & Sciences administrator.

In other CRAS news, the institution is touting their status as the only recording school to offer training certification on the TC Electronic Systems 6000. The program exposes Conservatory students to the TC Electronic S6000 audio processing systems and provides them with the information necessary to operate the system.

"Our students win because they will have been certified by the manufacturer to use one of the best audio processing systems in the industry," explained Hamm, which is something no other graduate from any other recording education institution can earn."

Certifying on the S6000 is completely optional at the Conservatory, but all students are given a copy of the S6000 manual. "We encourage students to take advantage of this unique opportunity," explains Robert Brock, head of the Conservatory's Digital Recording department. "The S6000 is very high-end piece of gear and being recognized by the manufacturer, as well as the school, helps associate the student with a high caliber of learning. The S6000 has quickly become an industry standard and it shows a student's commitment to make the extra effort and go beyond what's expected of them."