Engineer Mike Sokol Lectures At Conservatory


Engineer, author and surround sound expert Mike Sokol recently visited the Conservatory to give a lecture on 5.1 surround audio mixing and recording. Sokol used gear from Metric Halo, Emagic, Soundfield, Millennia and M&K to record and play back multichannel audio to-and-from his Apple G4 laptop. The presentation included a Powerpoint presentation and live 5.1 recording of drums and bass. Afterwards, Sokol fielded questions from the student body. Administrator Kirt Hamm commented on the guest lecture series: "We have recently begun to ramp up our lecture program at the Conservatory. It has become eminently obvious to us that lectures from industry heavy-hitters not only serve to educate, but to motivate our students as well. The student section of AES here at the Conservatory has become very aggressive and proactive in terms of arranging lectures, and we simply love it. There will be a lot more to come."

Photo caption: Mike Sokol during his recent guest-lecture at the school



---

Graduate Eddie Mapp Goes Wylde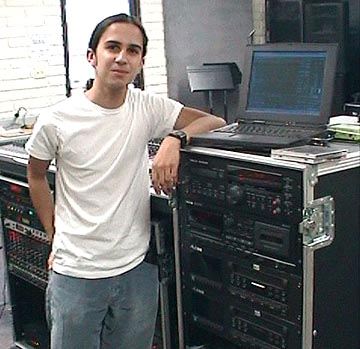 Conservatory grad Eddie Mapp is carving a niche for himself in live sound. Read about what he's been up to since his graduation and how a Conservatory education helped him on his path to success.

Age: 22
Hometown: New Orleans, LA
Last School attended: High school
Last Book Read: Willie Nelson's biography
Most Recent Concert Attended: Joe Cocker and Tina Turner

What made you choose the Conservatory?
The curriculum was put together very well and when talking to the staff everyone was friendly and outgoing.

When did you graduate? Was the education all you had hoped it would be?
I graduated in September of 1997. I thought the program was great, it really gave me a chance to get in there and see what everything was about. Even outside of class there were always opportunities to be learning.
Tell us what path your career has taken since you graduated from the Conservatory.
I worked in several project studios and small clubs before deciding to focus on live sound in 1999. I then began working with a couple of production companies out of New Orleans and started touring after that.
What are you doing now?
I just recently finished working on a solo album with Zakk Wylde's Black Label Society (Ozzy Osbourne guitarist) which will be released in March 2002. After that I'll be going out on Ozzfest as F.O.H. (Front Of House) engineer with Zakk.
What do you like about working in audio?
Seeing the big picture, just being able to stand back at the end of the day and look at what you've created. That always makes me appreciate what I've learned.
What are your goals for your career now?
I'll be returning to the Conservatory to take the JBL SIA/Smaart training program that they're offering. Other than that I just want to stay out on the road and keep learning.
Where do you see yourself in five years?
I'd eventually like to do more studio work but as of right now touring is a lot of fun. I've been fortunate in that most everyone I've worked with has been very helpful and supportive.

Photo caption: Eddie Mapp in the Conservatory's Sound Reinforcement Lab



---

Instructor Profile: Jeff Harris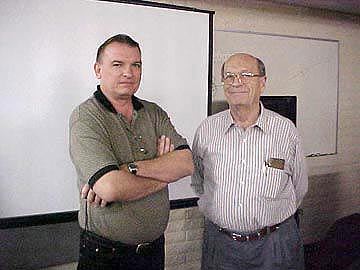 Before moving to Arizona and teaching at the Conservatory, Jeff Harris was a studio professional in Los Angeles where he was involved in many Grammy and platinum awarded albums. We recently interviewed Jeff and got an insight into his passion for audio.
How long have you been an instructor at the Conservatory, and what got you started in audio education?
This is my fifth year at the Conservatory and really a continuation of my audio education experience. During the 1980's, while working in Los Angeles, I started a program at The Village Recorder of training and orientation for new assistant engineers. This was at a time when recording technology was advancing rapidly but there were no schools providing the necessary education.
You have a great resume. Tell us where you've worked
and with who.
Twenty-eight years of experience in the recording industry has provided me with many great experiences. I am often asked the who and where questions but why I chose this career is less often asked. The personalities and places : "A"namotion to Al "Y"ankavich from New York to Sydney . The why is because this business is also my art. I find it very rewarding. I have such a passion for my work that I always look forward to my next session. It doesn't matter who it is.
What classes do you teach at the school?
I teach "Introduction to Synchronization" and "Analog Tape Recorder Alignment." During these classes, I also introduce students to the idea of studio systems integration including the benefits and limitations of both analog and digital recording systems.
From your perspective, what is best and worst about new audio technology?
First I have to say that with regard to music recording, anytime the technology becomes more important than the art, we have a problem. Technology, old or new, is just the tools we use to create and capture an art form. I embrace all technology and use both analog and digital tools as appropriate.
What do you like to see in a student that you'd hire as an intern?
The internship experience of our students is particularly important to me. I believe that their internship must be taken as seriously as their course work, which prepares them for their first off campus industry opportunity. As an instructor and studio manager of a multi-room facility here in Arizona I have a unique opportunity to work with some students in both a school and work environment. The interns who work at our studio must have good grades and great people skills. An interview, profiency assessment, probationary period, and a willingness to be proactive about their new career all figure into an intern's experience with me.
Tell us more about what you do when you're not teaching at the school?
I own Artefact Studio Services, which is a design and consulting service. I am also a partner in Porcupine Studios, a major recording facility here in Arizona. The new studios are home for all my freelance recording and production work. I teach at the Conservatory part time as do most of the other instructors. We are all working professionals. I always look forward to my time in the classroom with the students because I love to share my experiences with them. It is important that we do more than just teach from a textbook.
If you had a time machine and could bring one piece of audio gear back from 100 years in the future, what would that be?
I would love to have the "Uncompressor" and the "Undistortor" to modify some of the popular trends in CD mastering!
CHALLENGE ROUND: You've got $1000 budget and you have to record a band live to 2-track, what would you use?
The 1000 dollar question! How many songs? How well rehearsed is the band ? Is it on location or studio? The equipment would be very simple, a few microphones, mixer, recorder and TALENT.
Photo caption: Jeff Harris with Mr. Rupert Neve




---

Visit the Headline Archive - See student and faculty profiles, facility spotlights, news and more.
Apply To The Conservatory Online - Our easy-to-use online admissions form makes it simple to get a Conservatory education.