Grad Speeds To Success With NASCAR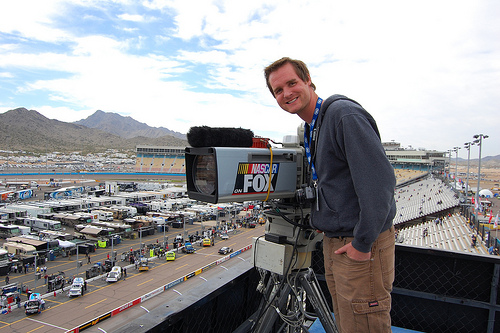 NASCAR rookie driver Trevor Bayne wasn't the only one to come out a winner at the Daytona 500. George Kemper, a recent graduate of the Conservatory of Recording Arts & Sciences (CRAS) also made his mark. Like so many CRAS students before him, George Kemper studied hard and practiced so that when the time came, he could jump in and make an impression, save the day, and land his dream job.
After graduating Oregon State University with a degree in psychology George decided that the psychology field wasn't where he wanted to be, so about a year ago he started a new journey and enrolled at the Tempe based vocational school, CRAS (The Conservatory of Recording Arts & Sciences). A standout student, George excelled in CRAS's 11-month program, becoming expert in and certified on the many tools and technologies of the audio trade, among them, Pro Tools and Logic.

In need of an audio editor for its NASCAR broadcasts, Fox Sports Sr. Audio Mixer and consultant, Fred Aldous, reached out to CRAS instructor Robert Brock, "We had a need for an editor, we wanted to record all 43 car radios, we wanted to grab them as quickly as possible, edit down some quick pieces and play them back, My first call was to Robert Brock at CRAS."
Brock adds, "I told Fred about George (who was just finishing up his internship at a post production facility in the LA area) and while he had put other feelers out, he hadn't heard anything back worth pursuing. I was able to sell him on George primarily because of his drive, ability to think outside the box and his personality. Fred said to give George his cell phone number and that he should leave a message because he might not be available as he was prepping to mix the 2011 Super Bowl later that week. The next call I received was from George who was in Daytona, FL. He's hired!"
George continues, "I can't imagine any other place I'd want to be. Before the race at Daytona, we were having some problems with the Soundtrack (digital audio program) setup handling the 43 inputs from the individual driver radio feeds. Fox was willing to purchase a costly Pro Tools HD system, but in the end I was able to use Logic Pro, a program I received as part of my CRAS student laptop package (Studio-In-A-Bag) which I had right there with me. I called Brock to double check a few things and we were quickly up and running!"
Within a few days George had his driver's car radio edits broadcast live on Fox Sports' Daytona 500 telecast. It's pressure cooker situation where George would line up the edited piece he's just created and when the director cues him, he hits the play button and it goes directly to air. George says, " The rush of knowing what your doing is going out live is amazing."
George is very much at home in his new world, especially when you consider that he has been on the job only a few months, and knew next to nothing about NASCAR before he started. This week George travelled to Talladega, AL for the Aaron's 499where he has very quickly become part of the Fox Sports family.

See photos from George's time in Phoenix for the NACAR Subway Fresh Fit 500.
Photo caption: CRAS Graduate George Kemper at Phoenix International Raceway.


---

PRG Visits CRAS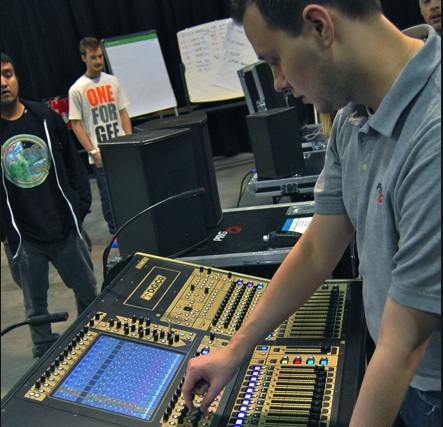 February 2011 – CRAS graduate and shop manager at PRG (Production Resource Group) – Las Vegas visited the Conservatory and he didn't come empty handed! He brought an entire semi truck loaded with the latest in sound reinforcement technologies that his company uses in support of major tours, Las Vegas shows, Broadway productions and more. CRAS students unloaded the truck which was packed with three different L-Acoustic's line array speaker systems, Digico and Digidesign live sound consoles, wireless mic systems and much more. Over the course of four days, CRAS students and instructors worked with Adam to experiment using the equipment in a variety of configurations which included working with live bands. Why would one of the largest event production companies go to such lengths to visit CRAS? Parrish comments "PRG likes to have me come out to the Conservatory because of the level of students they are able to train and provide. We prefer CRAS students because their experience makes it easier to get them up to speed on what we do."

See photos from PRG's visit here.

Photo caption: Adam Parrish of PRG at the Digico console.


---

See CRAS Up Close and Personal

On July 9th, the Conservatory is hosting an open house where you can meet and speak one-on-one with our faculty, staff and students. See and participate in live demos in our studios, Live Sound Venue, labs and classrooms.... READ MORE



---

Visit the Headline Archive - See student and faculty profiles, facility spotlights, news and more.
Apply To The Conservatory Online - Our easy-to-use online admissions form makes it simple to get a Conservatory education.