TapeOpCon Takes Tucson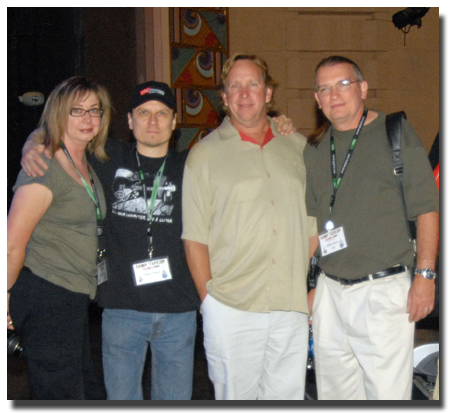 You may be familiar with TapeOp the magazine, but are you familiar with the TapeOpCon audio event? Sponsored by the magazine, TapeOpCon attracts a wide range of top audio professionals who come to attend the panels, workshops, performances and to see the latest gear displayed by a variety of manufacturers. Tucson played host for the 2006 event for the first time, due to hurricane Katrina displacing the conference from its usual home in New Orleans.
Guest speakers and panelists for the summer event included NARAS' Maureen Droney, Sylvia Massy Shivey, Chris Garges, Sean Slade and more. The workshops ranged from a class on building your own EQ, to advanced surround sound and basic studio maintenance. Conservatory staff and students attended various events and brought back plenty of interesting stories, tips and techniques from the event. The school has been a TapeOpCon sponsor for three years running and encourages students and staff to attend the function. For information on TapeOpCon 2007,
visit www.tapeop.com
Photo caption: left to right, Maureen Droney (NARAS), Scott Nowak (CRAS Instructor), Ed Cherney (engineer) and Jeff Harris (CRAS Instructor)


---

Lynch in Focus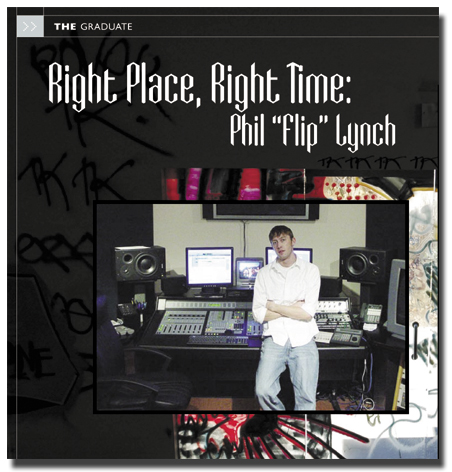 Philip "Flip" Lynch didn't take long to make his mark in audio. Lynch got his education and Pro Tools Operator Certificate through the Conservatory, graduated in April of 2005, and turned it into a job with a top post production company in Los Angeles. He was featured in the Summer Digizine, Digidesign's own audio publication that publishes the latest news about their flagship audio product, Pro Tools. Digidesign's audio workstation software and hardware is tops in the business, and anyone who knows audio, knows that it is an essential skill if you're serious about your career.
Before he came to the school, Lynch started out as a DJ and was interested in electronic music and hip-hop, but after some time at the Conservatory, he altered his career path. "For me, the most beneficial part of the program was the Introduction to Audio Post Production course," Lynch told Digizine's Diane Gershuny Fleming. "It wasn't an avenue I had explored at all, but it ended up being pretty significant for me." That is an understatement, because Lynch now works on documentary TV shows from "The Apprentice", "Survivor", and "Fear Factor" along with programs for The Learning Channel and The History Channel.
The Conservatory provides students with the necessary tools for finding employment in the industry and to do this, places a lot of emphasis on certification programs. The CRAS offers certifications for Pro Tools, Auto Tune, Reason, SIA Smaart, TC Electronic M3000, Waves plug-ins, JBL Vertec speaker systems and more. The Conservatory congratulates Flip on his success, and is proud to see him featured in such a prestigious publication.


---

Fender Amps Rock at CRAS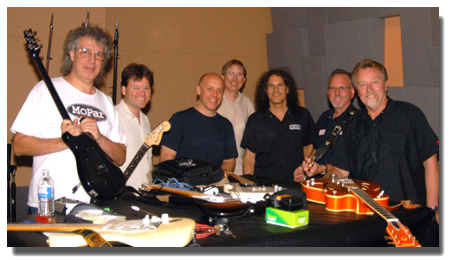 Conservatory 9th cycle students recently took part in a historical recording for a new Tom Wheeler book. Wheeler, author of America Guitars: An Illustrated History, is not only an author noted for his coffee table books, he is also an Associate Professor in the School of Journalism and Communication at the University of Oregon. Wheeler's newest book, set to ship by year's end, will put the spotlight on wide variety of Fender Guitar amplifiers. An accompanying audio CD will feature commentary and guitar tracks played by the Fender employees responsible for each specific amplifier, adding a level of detail beyond Wheeler's exhaustive research.
Fender, located in Scottsdale Arizona, chose the Conservatory to host the recording, and has had a long relationship with the school. "The name Fender is revered among musicians and recording engineers," says Mike Jones, the lead engineer on the project and Director of Education at the Conservatory's Tempe campus. "It is synonymous with quality and that sound, which has defined many generations of hits from Surf, Rock, Pop and even Jazz."
Jones' students helped in the setup and recording of the project, which spanned an entire day at the Conservatory's Studio A at the Gilbert location. Various mics, including a Royer SF-24, Shure SM57 and Electrovoice RE-20 were used to capture the magic onto the room's OTARI RADAR digital recorder. Later, Jones edited the hours of commentary and guitar tracks into a finished product that readers will hear on the CD inside of each book.
Photo caption: Director of Education Mike Jones with Fender staff
---

Visit the Headline Archive - See student and faculty profiles, facility spotlights, news and more.
Apply To The Conservatory Online - Our easy-to-use online admissions form makes it simple to get a Conservatory education.