Top Consoles at CRAS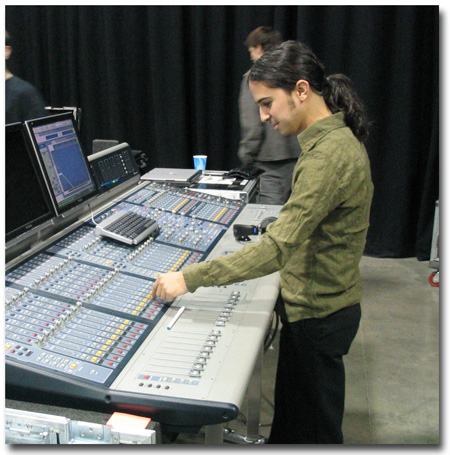 The Conservatory recently played host to a bevy of live sound consoles from Yamaha and Digidesign. The two latest additions to the live sound classroom were the Yamaha M7CL Digital Mixing Console and the Digidesign VENUE, which has been in and out of the school on various hands-on tours. The other two consoles on hand were the Yamaha PM1D and PM3500 that students see and hear year round.
Live Sound engineer and CRAS grad Eddie Mapp was on hand to mix on all the desks and give students the benefits of his expertise. Mapp is FOH engineer for Evanescence, Zakk Wylde and the Black Label Society, Drowning Pool and POD among others. He is profiled in a past CRASH newsletter and is interviewed in the Conservatory's March 2006 Podcast . "It's great how the VENUE interfaces with Pro Tools and allows me to use plug-ins when I mix," says Mapp. "I came back to the Conservatory to check it out and see about using it on the next Evanescence tour."
Students were able to hear and feel the desks in operation in a recent class that split a live stage feed to all four consoles, then on to separate recorders for later evaluation. "This is unique. There's nowhere else you can operate and hear four mixers like this in one location," says Live Sound Instructor Keith Morris. "This is a great way for the students and I to chat with Eddie and also get to mix live with him."
Photo caption: Eddie Mapp mixing at the Digidesign VENUE


---

Grad Tours With Warrant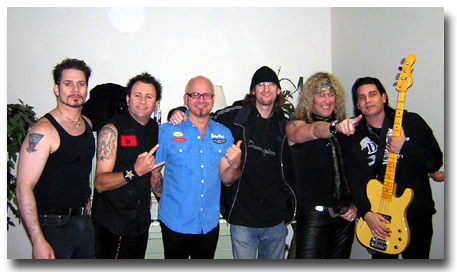 Bryan Mansell's career has been on the fast track since he graduated from the Conservatory in February of 2003. For starters, he interned at Bay 7 Studios in North Hollywood and was hired on full time within three weeks of starting. "The hours were extremely long, but it was all worth it because I was working with producers and engineers such as Howard Benson, Joe Barressi, Eddie Kramer, and Mike Plotnikoff" says Mansell. Although Bryan was the studio "gopher" during the day, after hours he was sitting in and helping on sessions with Bad Religion, Queens of the Stone Age, Theory of a Deadman, The All American Rejects, Vendetta Red, and even got his first credit for My Chemical Romance's Three Cheers for Sweet Revenge which just recently went platinum.
Never one to pass up a new opportunity, Bryan answered an ad online that read "National rock act needs live sound guy, call this number." Two hours later Bryan was talking to Jerry Dixon of the 80s rock band Warrant. "I couldn't believe it!,"exclaimed Mansell. "One of the biggest bands from the 80's and early 90's wanted me to come out on tour with them and be their Tour Manager and Front of House Engineer." Mansell is now one of the youngest Tour Managers/Front of House Engineers in the industry.
I have been touring with them ever since and in the down time, I have been able to use this job as a calling card for other gigs. It has opened doors for me I never would have thought possible in this industry for someone my age. I have had the opportunity to tour with and meet Great White, Poison, Twisted Sister, Supertramp, Firehouse, and many others.
"Bryan's experience shows that a grad's determination and hard work coupled with a Conservatory education and internship works," says Administrator Kirt Hamm. Bryan sums it up quite well "I love my job, and I can thank the staff at the Conservatory for helping me build a foundation of knowledge that has helped me to achieve the goals I have set out for myself."
Picture caption left to right, (Warrant) Steven Sweet, Erik Turner, Joey Allen, Bryan Mansell, Jaime St. James, and Jerry Dixon


---

Snoop Gets Shot of Yeager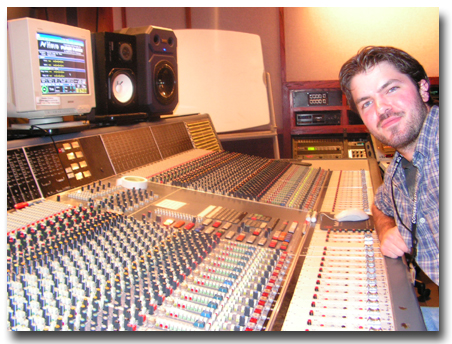 David Yeager has shot to the top rung of the audio ladder by scoring a gig with Snoop Dogg one of hip-hop's biggest names. "Snoop and Nate (Snoop's engineer) are both very down-to-earth and nice people," says Yeager. "Nate is very helpful and doesn't mind answering questions at all and Snoop is a true professional and has very good ears."
Yeager's day involves being a runner for the studio, but whenever someone can't be there or are running late, he is able to fill in. He has found that his ability to please the client has become one of his biggest challenges. "The day goes by pretty fast and it can get hectic. There are a lot of little small things to keep up with and pay attention to all the time, so you have to be a master at multitasking," he says.
Moving to a big city and working at the top of audio can be a scary proposition, but Yeager's Conservatory education prepared him for the task. "We stress the importance of a professional attitude and a strong work ethic from day one," says Administrator Kirt Hamm. "David's success reinforces the fact that real-world training is essential in making it in the professional world, no matter what you're doing."
The Conservatory's mandatory Internship program places students like David in situations where they can work and migrate up the ladder of success. The Conservatory's 900 clock hour program prepares students for the workplace like no other educational program in the world.
---

Visit the Headline Archive - See student and faculty profiles, facility spotlights, news and more.
Apply To The Conservatory Online - Our easy-to-use online admissions form makes it simple to get a Conservatory education.