CRAS Launches Podcast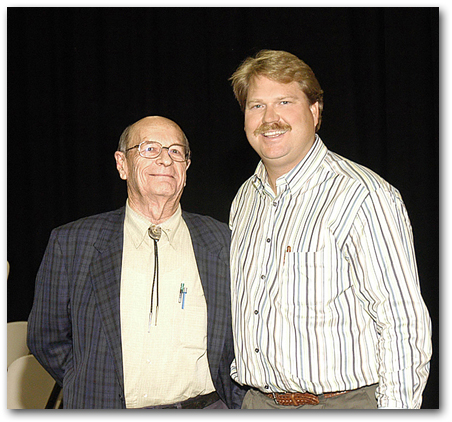 The official definition of a Podcast is "a method of publishing files to the Internet, allowing users to subscribe to a feed and receive new files automatically by subscription, usually at no cost." Although accurate, that dry definition doesn't come near the frenzy and excitement generated by this latest Internet fad. If you're a Pod-monaut, you can hear narrowcasts on nearly every topic under the sun and download it to either your computer or your portable playback device.
Never being a school to leave a promising new trend unturned, the Conservatory has initiated a monthly series of student-produced shows titled The Faderswap Podcast. As part of extra credit classwork, select students have been busy producing shows for the new platform that debuted in January 2006. To kick off the series, two students interviewed none other than legendary audio designer, Mr. Rupert Neve. Rupert is a household name in high-end audio production circles and has been manufacturing excellent and sought-after products for over 50 years. To hear what's on Rupert's mind and subscribe to our monthly show, visit the Conservatory's Podcast homepage.
Photo caption: left to right: Rupert Neve with Administrator Kirt Hamm


---

Mapp Finds Success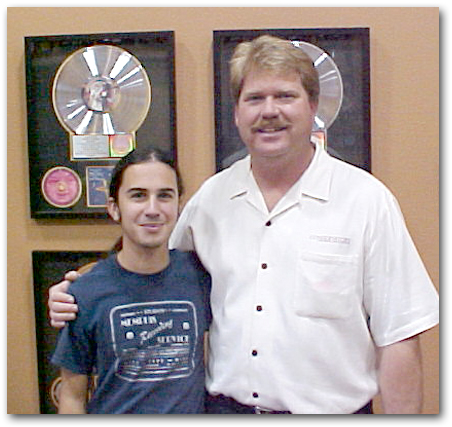 Eddie Mapp has been blazing a trail of successes since his graduation from the Conservatory in 1997. The soft-spoken Louisianan has toured as Front of House mixer for Zakk Wylde (Ozzy Osbourne, Black Label Society), Evanescence, Drowning Pool, Papa Roach and POD. His recent tour with Staind and POD has taken him across the country with stops in San Jose, San Bernadino, San Diego, New York, Phoenix, Dallas, San Antonio, Houston and 18 other cities. He has also toured overseas with various artists. He has been working not only with the top talent in the industry, but with the top gear as well.
Eddie has returned to the school several times to talk to faculty and staff about his career success and feels his education was key to getting him where he is today. "Eddie's career shows that a Conservatory education works," says Administrator Kirt Hamm. "He is an inspiration to current students who are about to venture out on their own career path."
Be sure to listen to Eddie's Podcast interview coming in March 2006. For more info on our monthly feature, click here.
Photo caption: left to right: Eddie Mapp and CRAS Administrator Kirt Hamm


---

CRAS Instructors Span Globe


A good barometer of a successful career is how much in demand you are by the industry. In 2005, three Conservatory instructors were very much in demand, logging work visits in Germany, Denmark, London, Sydney, Tokyo and Moscow.
Robert Brock, MIDI/Digital Audio/Electronic Music Instructor is co-author of the Apple Pro Training Series: Logic 6 with Martin Sitter. He also works as Apple's trainer for Logic Pro instructors worldwide. In 2005, Brock logged thousands frequent flyer miles by teaching Logic Pro training classes in London, Berlin, Sydney and Tokyo. If you're at any of the industry's top trade shows such as NAMM, NAB or AES, you will also see him in the Apple booth running training sessions. Brock's keeps his plate full and gives students the benefit of his expertise while teaching classes at the Conservatory.
Kevin Becka, Audio Recording and Production Instructor and Director of Education at the Conservatory's Gilbert satellite facility flew to Denmark in October to teach surround recording at the state-run Danish Rhythmic Music Conservatory in Copenhagen. He was one of a group of 20 top musicians, engineers and producers asked to teach Danish students about the production of American music. The story appeared in the December issue of Mix Magazine. Apart from being a Conservatory instructor, Becka is the technical editor of Mix magazine, and before coming to Arizona to teach, was the editor of Pro Audio Review and Audio Media magazines.
Live Sound Instructor Keith Morris was in Moscow the week before Christmas working as Front of House mixer for UK pop sensation Jem. The concert event in the capitol city brought celebrities from around the world to perform for the Russian New Year's celebration. Actor Jim Belushi acted as host for the event that featured many top acts including Pink, Jem and others. When Keith arrived at the venue, he was happy to see a Yamaha PM5D waiting for him. It is the little brother to the Yamaha PM1D found in the Conservatory's 6,000 sq. ft. live sound classroom at the Gilbert location. Keith certifies the students on the JBL Vertec line array and SIA Smaart Pro software.
The international experience of these instructors translates back into the classroom as students hear and see the benefits of their teacher's expertise. The Conservatory offers a unique education that is based on mastery of the principles of sound, flavored with the experience of their excellent staff of instructors.
---

Visit the Headline Archive - See student and faculty profiles, facility spotlights, news and more.
Apply To The Conservatory Online - Our easy-to-use online admissions form makes it simple to get a Conservatory education.