SPARS Visits CRAS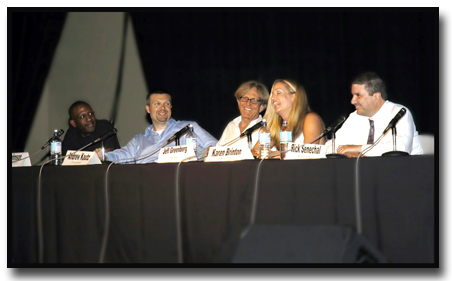 The Conservatory of Recording Arts & Sciences recently hosted members of the board from SPARS for an all-star panel. The visitors including: Eric Johnson (Blazing Music & Sound Raleigh, NC), Karen Brinton (Remote Recording NY, NY), Jeff Greenberg (The Village Studio Los Angeles, CA), SPARS President Andrew Kautz (Nashville, TN) and Rick Senechal (Microsoft Studios Washington State) sat before a group of 400 students and faculty in the Conservatory's 6,000 squre-foot live sound room to talk about careers in audio. "It is exciting to see so many people eager to work in our field and we are always inspired by the level of technical knowledge and the fresh perspectives that these young people bring to our professional facilities," says Kautz. "We are eager to continue to reach out to our pro audio educational members and work in conjunction with one another to the mutual benefit of both parties."
Photo Caption : left to right, Eric Johnson, Andrew Kautz, Jeff Greenberg, Karen Brinton, Rick Senechal
Photo by: Carol Cefalu


---

Scovill Teaches VENUE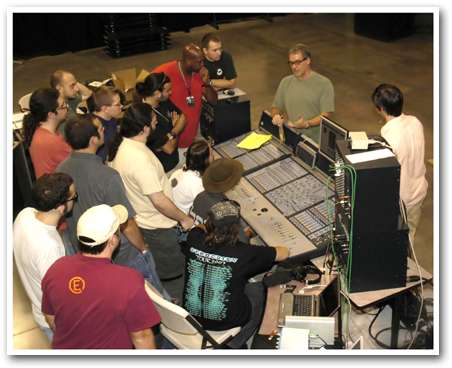 Robert Scovill knows live sound. He has been front of house engineer for Matchbox 20, Tom Petty and the Heartbreakers, Prince, Def Leppard, Rush and more. Robert also knows the Digidesign VENUE console, the hot new live sound desk that is out on the road with John Mayer, Joe Satriani and Tom Petty. Recently, Scovill brought his VENUE training road show to the Conservatory to give the students a first-hand look at the new system. The Conservatory's live sound room is the perfect teaching environment to put the console through its paces. It boasts a JBL Vertec line array, Yamaha PM1D digital console and a Yamaha PM3500 analog live sound console, so slotting in the VENUE was a breeze. "It's a great console, very intuitive," says live sound instructor Keith Morris. "It didn't take long before we were all comfortable with the inner workings of the VENUE." The Conservatory's live sound program has piqued the interest of students who never before realized the highly technical nature of live sound. Many students have joined the ranks of the road crews who are on tour with the top acts in the country.
Photo credit: Carol Cefalu


---

CRAS Garners Praise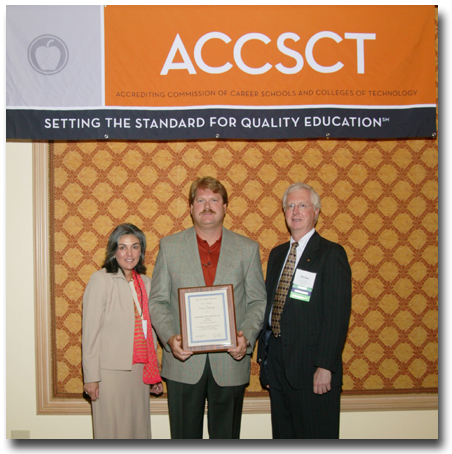 At its June 22, 2005 Annual Business Meeting in Las Vegas, Nevada, the Accrediting Commission of Career Schools and Colleges of Technology ("ACCSCT") recognized Conservatory of Recording Arts and Sciences located in Tempe, Arizona as a 2005 ACCSCT School of Distinction.
The ACCSCT School of Distinction Award recognizes those accredited member schools that have demonstrated a commitment to the expectations and rigors of ACCSCT accreditation, as well as a commitment to delivering quality educational programs to the students, graduates and employers that deserve our best work. Through this award, it is ACCSCT's intent to recognize the importance of this significant achievement, including completing the accreditation process without stipulation and having been timely in the submission of the fees and reports required of an ACCSCT accredited institution.
"It is a great honor to be picked from a list of over 800 schools to receive this award," says Administrator Kirt Hamm. "The ACCSCT has given us a wonderful validation of our mission – to provide the best education we can to motivated, up-and-coming audio professionals."
Photo caption: left to right, Elise Scanlon Executive Director, Kirt Hamm, Conservatory Administrator, R.Michael Harter
Chairman of the Commission
---

Visit the Headline Archive - See student and faculty profiles, facility spotlights, news and more.
Apply To The Conservatory Online - Our easy-to-use online admissions form makes it simple to get a Conservatory education.