Industry Legend Rupert Neve Visits Conservatory

On November 7th, audio industry legend Mr. Rupert Neve spent the day at the Conservatory of Recording Arts. Mr. Neve formally lectured a large group of students and faculty and also spent part of the day visiting the school's classrooms and studios. School administrator Kirt Hamm said: "Mr. Neve doesn't often visit recording schools so we were particularly honored to have such an industry legend come and share his vast pool of knowledge and experience with the students. He gave us a real perspective on the industry and a better understanding of the intricacies and challenges associated with new technology. He was impressed with how knowledgeable and attentive the students were and expressed interest in returning in the future."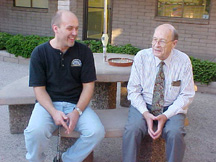 Photo caption: Director of Education, Mike Jones with Mr. Neve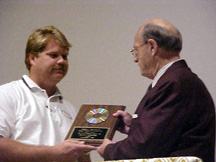 Photo caption: Administrator, Kirt Hamm presenting a plaque to Mr. Neve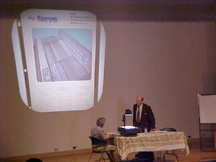 Photo caption: Mr. Neve talking about console design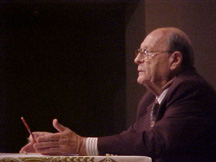 Photo caption: Mr. Rupert Neve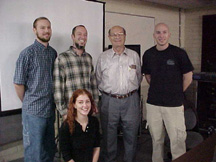 Photo caption: Mr Neve with students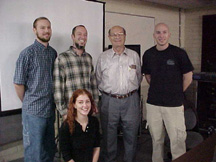 Photo caption: Mr. Neve fielding a student's question
---

Conservatory Graduate Makes A Difference At DTS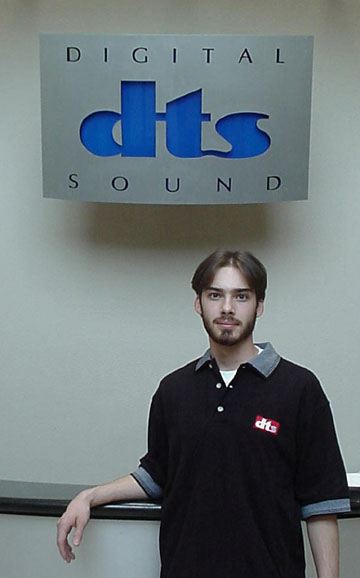 A VIEW FROM…THE BEGINNING
By Jeff Perkins

Everyone has to start his or her career somewhere, right? I was so excited about getting into the recording industry as quickly as possible that I graduated high school in Atlanta, Texas in two years in order to get a leg up. But there was only one problem: Where do I start?
As a singer/songwriter, I knew surround sound and digital recording was the place to be in this industry, but I needed to somehow gain an education and real-world experience in these realms in order to get my foot in the door, and fast. After looking into a number of schools I found The Conservatory of Recording Arts & Sciences (CRAS) in Tempe, Arizona.
When nearing completion of my studies at CRAS, I heard through the grapevine that DTS (Digital Theater Systems) had an assistant position opening up, so I applied for an internship there and was accepted. Once I completed my internship, DTS offered me a temporary position as an audio assistant in the Mastering Department working on DVD encodes and transfers. That quickly turned into a full-time job as a studio engineer at DTS, where I continued to work on DVD encodes, editing, mastering and transfers. Six months later I was offered my current position as Studio Engineer, actually consulting at the dub stages for DTS. I also work at Todd AO in the DTS office there.
My job at DTS entails recording the printmasters for feature films and processing encodes at Todd AO. I create the master DTS print and go back to the studio to check sync. From there it's sent out to production. Some of the projects I've worked on so far include: Gladiator; Sleepy Hollow; Terminator 2; Luiz Miguel – Vivo; The Mexican; Cirque Du Soleil; Interview with the Vampire; Studio Voodoo; Slackers; and many IMAX films. What more could I have asked for? It's a dream come true!
My advice to the audio post beginner is simple: Learn as much as you can about every format on as many pieces of professional quality equipment as possible, preferably in an accredited and well respected educational facility, such as the Conservatory of Recording Arts & Sciences. Believe me, every day is a learning experience, but the ride so far has been great.

Photo caption: Jeff Perkins



---

Meet The Students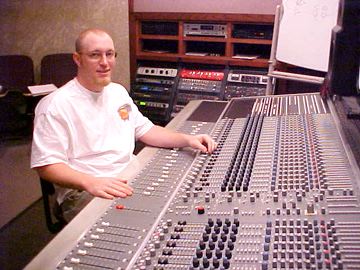 Eric Gandy is excited about the prospect of a career in audio. Find out why he chose the Conservatory and what he has planned for the future.
Age: 21
Hometown: Aztec, New Mexico
Last School Attended: San Juan Junior College
Last Book Read: Harry Potter: The Sorcerer's Stone
Favorite CD: Primus: Sailing the Seas of Cheese
Most Recent Concert Attended: Pantera and Slayer

What made you choose the Conservatory?
Because of it's reputation and the teacher's reputations and accomplishments.
What do you expect to get out of your Conservatory education?
A head start and jump in front of other students in the recording industry.
What do you think so far? Has the school met your expectations?
It has far exceeded my expectations.
What most excites you about a career in audio?
That I will be making records and enjoying music every day (oh, and I will get paid for it!)
Where do you see yourself in the next five years?
I want to be deeply involved and an asset to a company who makes great records.
What did you do for a living before attending the Conservatory?
I was a server at Outback Steakhouse in Farmington, NM.
What other recording schools had you considered besides the Conservatory?
LA Recording Workshop and Full Sail.
Why did you choose NOT to attend those schools?
Because of the conversations I had with admissions representative Tonya Nehring.
How much prior experience did you have coming into the school?
I had done some live sound and played in bands since I was in high school.
What is your dream goal?
I would love to be an engineer that was in demand and someday run my own studio.
How does the Conservatory fit into your plan for success?
It has changed the path that I was taking. It's the best thing I've ever done.
Who is your favorite teacher on staff?
Mike Jones/Jeff Harris.
What is your favorite class?
All of them that deal with sessions.
Which area will you choose to pursue?
I want to make records!!!

Since our interview, Eric has graduated and is now interning at Emerald Recorders in Nashville. When we chatted, he was preparing to work on a session with Sheryl Crow and was excited about working at one of Nasvhille's hottest studios.
Good luck Eric!
Photo caption: Eric Gandy at Studio B's Neotek Elite.




---

Visit the Headline Archive - See student and faculty profiles, facility spotlights, news and more.
Apply To The Conservatory Online - Our easy-to-use online admissions form makes it simple to get a Conservatory education.