Electric Lady Exclusively Hires CRAS Grads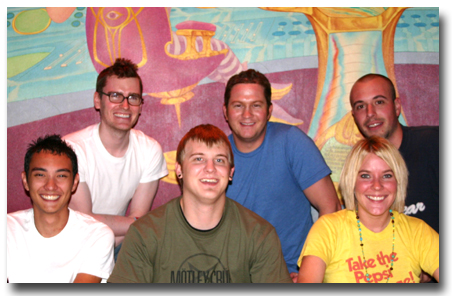 Electric Lady studios is world class facility and famous for the fact that it was built in 1968 by 60's rock legend Jimi Hendrix. It served as his personal studio and the place where he jammed and recorded the Electric Ladyland LP. After the icon's death, the studio went public and the rest has been audio history. In the thirty-odd years since its inception, it's hosted a veritable who's who of music that have chosen the studio as their workplace of choice.
Another unique thing about Electric Lady is that it exclusively chooses Conservatory of Recording Arts grads to populate their staff. Currently, Emily Burgess, David Leaver, Jeremy Garrett, Heath Raymond and Jeffery Schultz areemployed or are interning at the facility. The grads have found that the pace of work is hard but they realize that being able to keep up separates the best from the rest. Emily Burgess, a recent grad and one of the latest hires says, "During a recent group of sessions, the engineer, studio manager, producer, band and myself literally slept (or more appropriately, napped) in shifts, calling dibs on couches in the lounges throughout the studio for three days. It was nice to know that the studio manager and engineer had enough confidence in me to be able to let me track vocals and do some Hammond and guitar overdubs while they slept. Although, I must admit, it was a little nerve wracking having Ric Ocasek (from the Cars, ed.) watch through the glass as I set up a vocal booth and his TLM 193s. Electric Lady studio manager Lee Foster sums it up when he says, "when I'm looking for qualified interns or future employees, the Conservatory is my first and only call."
The Conservatory is the only audio recording school in the world that requires all students to complete a 280 hour internship before they graduate.

Photo caption: left to right: (back) Colin O'Regan, Matt Walker, Dave Leaver
Photo caption: left to right: (front) Keegan Zagami, Jeff Schultz, Emily Burgess


---

Certifications Make the Difference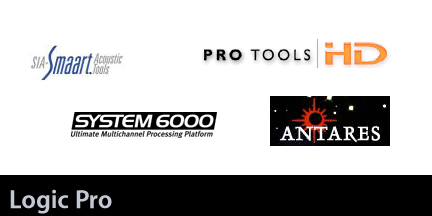 In audio, one thing that singles out one engineer from the rest is their ability to operate gear like a pro. It's for this reason that the Conservatory of Recording Arts offers its students the ability to certify on a variety of audio gear and platforms. For starters, students are offered the Digidesign-authorized Pro Tools 210M Operator's certificate, plus the Conservatory's own Pro Tools Certification, the same the school has offered since 1997 when it became the first Avid Authorized Pro Tools Training Center in the United States. Since then, the Conservatory has developed certifications for other gear including TC Electronic' M3000 and S6000, SIA SMAART Pro software, Apple Logic Pro 7 and Antares Auto Tune 4.
"Giving our students the hands-on training they need to compete in the audio workplace is what our certification programs are all about," says Administrator Kirt Hamm. "We've developed strategic alliances with a number of manufacturers and will soon offer an even 10 certificates that students can leave with once they graduate."
New programs in development in 2005 include certificates for the Yamaha PM1D digital live sound console, JBL Vertec Line Array and Reason 3.0 from Propellerheads. It takes experience to be a professional, and Conservatory graduates leave school with what they need to succeed in audio.


---

Chace Productions Visits The CRAS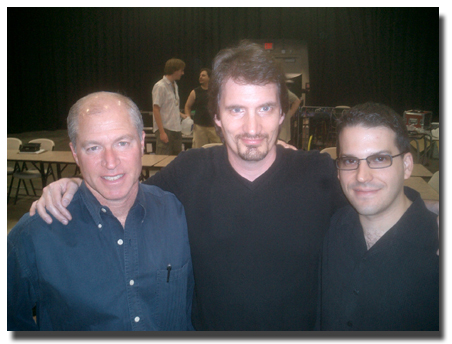 Bob Heiber and Brian San Marco from Chace Productions recently came to the Conservatory to talk audio with students and to give them a special offer. CRAS grads can qualify to intern with Chace, considered worldwide to be at the top end of audio restoration and mastering for film. "The pro audio industry remains highly competitive and it is critical for our students to graduate armed with experience in a working facility," states Kevin Becka, the Director of Education at the Conservatory's Gilbert location. "We are pleased to partner with a preeminent facility like Chace Audio to offer a step-by-step opportunity to learn how the restoration and preservation of film soundtracks is achieved."
For over 21 years, Chace has been restoring audio for films such as "Citizen Kane", "The Great Escape" and "The Rocky Horror Picture Show." Industry vet and President of Chace Productions, Bob Heiber played before-and-after examples of what they do best, make audio soundtracks sound like new again. After a technical presentation on their facility, Heiber and San Marco fielded questions from students interested in the process of audio restoration and a career in the film industry.
The Conservatory has relationships with scores of professional audio facilities all over the United States, giving students the best experience that internships offer. The school is the only audio recording school that has a mandatory internship as a requirement of graduation.

Photo Caption: left to right, Bob Heiber of Chace, Conservatory Instructor Jeff Thomas and Brian San Marco of Chace
---

Visit the Headline Archive - See student and faculty profiles, facility spotlights, news and more.
Apply To The Conservatory Online - Our easy-to-use online admissions form makes it simple to get a Conservatory education.