Fender All-Stars Visit School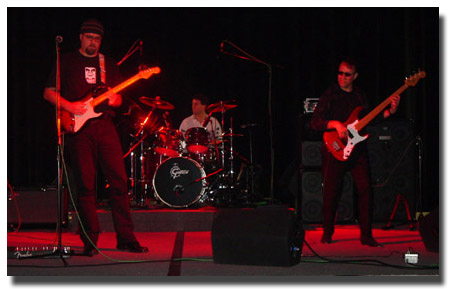 The Conservatory recently hosted a unique event that brought guitarist Greg Koch, bassist Roscoe Beck and drummer John Calarco to the school's 6,000-sq. ft. live sound classroom. Koch and Beck, both Fender endorsees, have an impressive list of credits to their name. Beck recently got off the road with the Dixie Chicks and in the past has produced played on recordings for Jennifer Warnes, Robben Ford, Eric Johnson and David Grissom. He is a regular contributor to Bass player magazine with his bi-monthly column Mastering Five String Bass.
Greg Koch's virtuosity has led to a successful career as leader of his own band, a studio musician (heard on dozens of national T.V. and radio advertisements), author, magazine contributor and artist/clinician for Fender Musical Instruments Corporation. Koch's first CD on Steve Vai's Favored Nations label, The Grip, is a compilation of tunes from his five previous independent releases. Greg has committed his distinctive brand of musical mayhem to his second Favored Nations release, Radio Free Gristle.
"Having world-class players like this to come and play at The CRAS really gives the students an idea of what it's like to run live sound in a truly pro situation," says live sound instructor Keith Morris. "This started out just being a live sound gig, but once the guys heard the room, we ended up hooking up a Pro Tools HD floater rig and doing some work on their CD."
The Fender visit is part of the school's ongoing relationship with the company who exclusively provides all the guitars, amps and basses that the students use for class projects.

Photo credit: left to right: Greg Koch, John Calarco and Roscoe Beck


---

Danish Pro Audio On Campus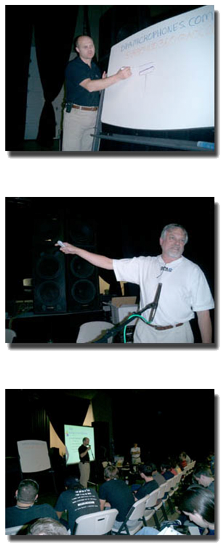 Engineer Gary Baldassari and DPA CEO Morten Stove recently visited the Conservatory to give students a look at the DPA range of products along with numerous tips on
advanced recording. DPA, whose products are often called the best kept secret in audio, makes a large range of microphone products that have interesting and unique
characteristics. "DPA mics are best known for their ability to take high levels of SPL and deliver incredibly accurate on and off-axis frequency response," says Stove. The mics
have been used for such diverse applications as recording the last five Super Bowls in surround, as well as capturing the launch of the Space Shuttle. Students got an experts
view of just what the mics can do in a wide variety of applications, as well as seeing a shocking demo where Stove submerged a mic into a glass of sparkling water,
having it come out none the worse for wear.

"Students and instructors alike learned some interesting things here today," says Kevin Becka, director of education at the Conservatory's Gilbert location. "Gary's experience
in high-end recording with DPA products is unparalleled. His techniques are such that you are anxious to go out and try them immediately." Stove and Baldassari showcased
some of DPAs cardioid and omni mics along with a line of miniature mics that have recently become popular with engineers such as Nashville's Chuck Ainlay.

The DPA visit is part of the Conservatory's ongoing guest lecture series that has brought such luminaries as Wes Dooley, Rupert Neve and Eve Anna Manley to the campus.

Photo caption: Morten Stove and Gary Baldassari from DPA addressing
students at the Conservatory.





---

Jamar's African Adventure


John Jamar's story is not one that commonly comes out of the mouth of a Conservatory grad. His self-described "amazing" experience came when he found out there was a need for someone to come to work in East Africa recording cultural music from different tribes. Jamar is also working in a small sutdio in Nairobi doing mainly gospel choirs and some hip hop.
"Currently I am working with a fellow from the Kibera area just outside of Nairobi," says an enthusiastic Jamar. "We're making a hip hop record and using Reason and my Pro Tools Digi 002 to cut the tracks." Jamar is also making recordings of African indigenous music from areas in Tanzania and Uganda using a Tascam T1 DAT field Recorder. From there, the tracks get transferred to disc and then polished up in Pro Tools. "The CRAS has given me all I need to feel comfortable in any recording environment," says Jamar. "The things I learned have given me the chance of a lifetime and an experience I will never forget."
Although John's story is uncommon, in that he found work on another continent, it's one that shows how well Conservatory students are prepared when they enter the workplace. A CRAS education gets you ready to work in the real world of audio production.
Photo caption: John Jamar at his studio in Nairobi Kenya




---

Visit the Headline Archive - See student and faculty profiles, facility spotlights, news and more.
Apply To The Conservatory Online - Our easy-to-use online admissions form makes it simple to get a Conservatory education.