Grads Score Grammys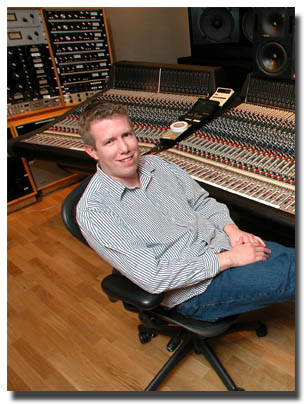 Conservatory graduates Moka Nagatani and Darrell Thorp have taken home a total of three Grammys from the 46th Annual Grammy Awards held recently in Los Angeles, California. Thorp won for Best Engineered Album, Non-Classical with co-winner Nigel Godrich for Radiohead's "Hail to the Thief", while Nagatani and Thorp both scored statues for their work on Outkasts Album of the Year, Speakerboxxx/The Love Below.
Thorp graduated from the Conservatory in 1997 and immediately started working as an intern at Track Record Studios in North Hollywood, California. He was then hired by Ocean Way Studios in Hollywood. Nagatani graduated in 2002 after which she interned and was subsequently hired at Outkast's Stankonia studios in Atlanta. She currently splits her time between the US and Japan.
"We're always happy to see our graduates do well", says Conservatory Administrator Kirt Hamm . "Having Darrell and Moka honored with the industry's top award is a testament to their talent, work ethic and their strong Conservatory education." The Conservatory is the only recording school in the United States that requires students to complete an internship for graduation.

Photo caption: Darrell Thorp at the Neve 88R in Studio D at Ocean Way Hollywood. Rollover: Moka Nagatani at the Pro Control in Studio B at Atlanta's Stankonia Studios. (Thorp photo by Mr. Bonzai)


---

CRAS Upgrades to Pro Tools HD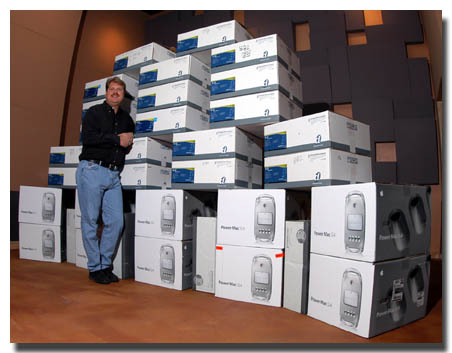 As a part of its multi-million dollar campus upgrade, the Conservatory has purchased 26 new Pro Tools rigs for both its Tempe and Gilbert locations. "Modern audio production and Pro Tools are synonymous," says administrator Kirt Hamm. "In order to stay current with the ever-rising trends in technology, we saw fit to put the latest version of Pro Tools in all our labs and studios."
For starters, the Pro Tools labs at both locations have a total of 12 Pro Tools HD rigs featuring 96 I/O interfaces and the latest software. Since class sizes are limited to 12 students, this means that each workstation will have no more than two students each, giving maximum hands-on time during labs and projects. In addition, the D-rooms at both locations sport HD rigs with both a 192 I/O and 96 I/O. The D-rooms at the Conservatory are set up for 5.1 recording and mixing and offer a Focusrite Control 24 controller, TC Electronic System 6000, monitors from M&K and Hafler, various keyboards, drum machines and a wide variety of plug-ins. The school's floating Pro Tools rigs, 8 in all, consist of two Pro Tools HD rigs featuring three 96 I/O interfaces each and a Sync I/O. The remaining six rigs offer Digidesign's 002R interfaces and Pro Tools LE. These portable rigs are used for various student transers and the popular commercial production classes where students get a handle on how to produce and edit spots for radio and TV.
"We've taken great pains to put our student's hands on the latest technology to make it easier for them to acheive the kind of success that our recent Grammy winners enjoy," offers Hamm. Hamm is referring to Darrell Thorp and Moka Nagatani, recent Grammy winners for Best Engineered Album non-classical. "Our goal is to have our grads employed in the best studios in the world.

Photo caption: Administrator Kirt Hamm in front of some of the new Pro Tools gear purchased for the Gilbert location



---

Scovill Goes To School


Robert Scovill, FOH engineer for Tom Petty and theta Heartbreakers, Prince, Def Leppard, Rush and Matchbox 20, recently offered a select group of audio pros from around the world an inside look at how he works. Under the banner of audioseminars.com, Scovill's offering, titled "The Complete Front Of House Engineer" chose the Conservatory of Recording Arts' new 6,000-sq. ft. live sound classroom in Gilbert Arizona to host the event. The room, which Scovill helped design, is a state-of-the-art venue that offers the professional staging, lighting and power needed to pull off such an event. "We think it's a golden opportunity for us to be doing this at the Conservatory," says Scovill. "The live sound lab at CRAS is considerable, a little over 150,000 cubic feet and that allows us to showcase a sound reinforcement seminar curriculum as well as the gear in a completely professional setting."
Featured PA gear for the event was supplied in part by ProMix Electrotec and included:
A VDOSC line-array PA along with ARCs and LAcoustic Subs, TD-1s, Runts and BDEAP Subs from Sound Physics Labs. Other gear from Electrotec included a Paragon Production II console, API 2500 compressor, Klark Teknik Helix Equalization, Lake Technologies Contour, XTA System Crossovers & Delays, Distressor Compressors, Urei 1176 Compressors, TC M3000 and M4000 and Yamaha SPX 990s. Eldon's Boy Productions provided 64 I/Os of Pro Tools, 64 I/Os of Tascam DA-88 along with Ramlatch Snakes and Splitters.
The three-day hands-on seminar covered SIA Smaart operation, FFT analysis and RTA and system tuning, outboard gear usage such as compression, limiting, time based processing and MIDI and console routing concepts. Nobility Obliged, a local live band was brought in for an extended sound check and then was mixed the following day. Conservatory administrator Kirt Hamm offers, "this kind of event lets us offer our students a pros-eye view of the industry. Robert's experience in the industry is unparalleled, which is why we had him design our live sound curriculum." The Conservatory's live sound curriculum is just a part of its multi-faceted 900 clock-hour program in pro audio engineering.
Photo caption: Keith Morris of the Conservatory and Robert Scovill; 2nd: A view of some of the gear 3rd: Scovill at the "board"; 4th attendees and CRAS students at the Paragon console.







---

Visit the Headline Archive - See student and faculty profiles, facility spotlights, news and more.
Apply To The Conservatory Online - Our easy-to-use online admissions form makes it simple to get a Conservatory education.