NAMM Rocks Anaheim

Conservatory graduates Moka Nagatani and Darrell Thorp have taken home a total of three Grammys from the 46th Annual Grammy Awards held recently in Los Angeles, California. Thorp won for Best Engineered Album, Non-Classical with co-winner Nigel Godrich for Radiohead's "Hail to the Thief", while Nagatani and Thorp both scored statues for their work on Outkasts Album of the Year, Speakerboxxx/The Love Below.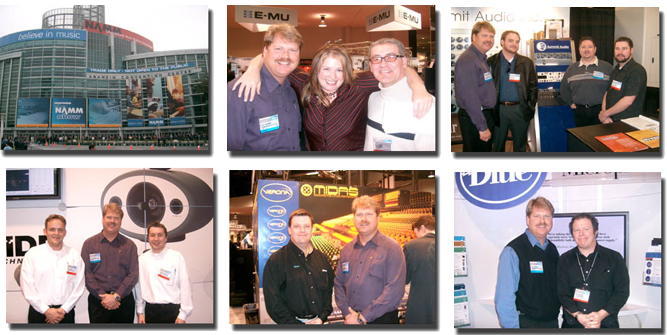 Thorp graduated from the Conservatory in 1997 and immediately started working as an intern at Track Record Studios in North Hollywood, California. He was then hired by Ocean Way Studios in Hollywood. Nagatani graduated in 2002 after which she interned and was subsequently hired at Outkast's Stankonia studios in Atlanta. She currently splits her time between the US and Japan.
"We're always happy to see our graduates do well", says Conservatory Administrator Kirt Hamm . "Having Darrell and Moka honored with the industry's top award is a testament to their talent, work ethic and their strong Conservatory education." The Conservatory is the only recording school in the United States that requires students to complete an internship for graduation.

Pictured top: Left: Anaheim Convention Center; Middle: Kirt, Sarah Jones of Mix Magazine and engineer Robert Scovill Middle; Right: Kirt, Eric Papp, John McJunkin and Paul Grove at the Summit Audio booth.

Pictured bottom: Left: Kirt Hamm visiting Ben Cook and Simon Sinclair of Tannoy; Middle: Kirt at the Midas booth; Right: Kirt with CRAS grad Eric Boyer, now head of marketing for Blue Microphones.


---

Grad Surrounded In Audio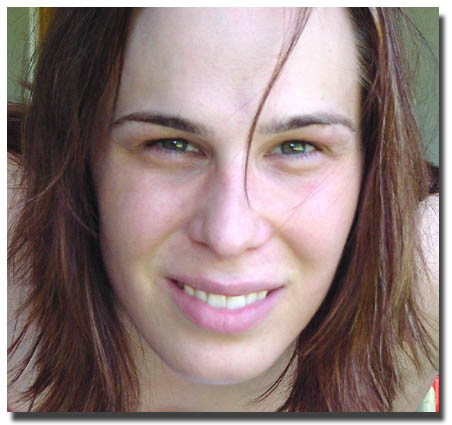 Alexandra "Ally" Schoepel's dedication to audio and music along with her Conservatory education got her started on a successful career path. Just after graduation, Ally first worked for Line 6, the POD people. Most recently, Ally has joined the product development team at SRS Labs, a company that is at the cutting edge of 5.1 surround sound technology. We recently caught up with Ally at her home in California.
What got you interested in audio?
My mother used to teach piano when I was very young, so I had music around me often. I enjoyed tinkering on the piano - but I had a greater passion for saxophone and bass. I decided to pick up sax in elementary school, after trying piano, which was way too heavy to lift. When the Apple IIGS came out in 1987, I started getting into MIDI and composing. That was my entry into developing my home studio along with a really cheap CASIO - four whole MIDI channels!! From there, well, the list goes on and on.
Tell us about what you do for SRS.
I am involved in product development from an engineering standpoint. With my degree in electrical engineering and personal background in music and audio, I help develop and build SRS software products for the professional and consumer market. I most recently worked with other engineers on the VST and TDM plug-ins for Circle Surround.
Tell us how the Circle Surround Encoder and Decoder work?
In my own words, Circle Surround is a matrix encoded surround system that transmits up to 6.1 channels onto two channels (stereo). Encoding is based on phase and level relationships. By creating phase disparities between the input channels and then mixing this into a two-channel output, one is able to encode multiple channels. Circle Surround encoding has many benefits for massive two channel infrastructures (FM radio, TV, CD Audio) and for low-bandwidth restrictions (satellite TV and Radio, internet). Decoding requires complex manipulations to rebuild the separate channels based on the phase and level relationships to ensure proper separation. There are important decisions and tradeoffs when choosing how to implement the decoder in real-time. In the end, what matters most is how it sounds. One of the many great things about it is that the encoded two-channel stream can be played on any stereo or mono playback system as well as surround capable systems.
What kinds of audio projects do you work on for your own enjoyment?
I enjoy composing, techno dance stuff, but also performing every once in a while just for fun. I like to collect gear and work with music on computers. I am in the process of going into a full virtual studio so I can take my composing wherever the muse leads me. I also enjoy music theory, studying, and mimicking composition styles for education. A few years ago, after attending CRAS, I had the opportunity to compose a variety of pieces for comedy stage shows in Hollywood. I also engineering the sound and recordings used during the live show. I still play bass, saxophone, and even piano for relaxation.
Where do you see the future of Surround going?
Many think that the capabilities of surround are limited to the number of speakers you have. This may sound silly, but surround can also work with the number of speakers you don't have. Surround technology will continue looking more at HOW we hear as opposed to WHAT we hear. I've seen some truly amazing things done in surround with only two speakers. Possibly one day we will have advanced audio technology that will analyze and pragmatically work with its environment and the listener to replicate sound the way the mixer intended it. That is one of the exciting things about SRS's technologies and other virtualization technologies in audio.

Photo caption: CRAS graduate Ally Schoepel



---

CRAS Continues Expansion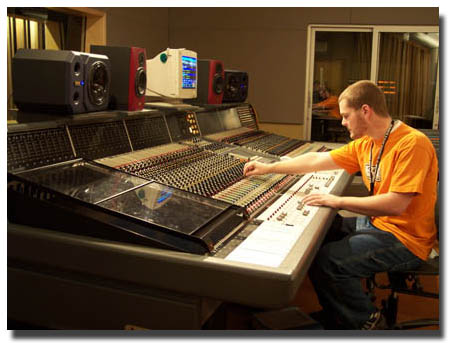 If you've been following our few past newsletters, it's no secret that the Conservatory has launched a second location. The new 25,000-sq. ft. facility in Gilbert, AZ opened for class back on November 3, 2003 and 24 new students have eagerly started every three weeks since then. As the new location ramps up to speed, new rooms come online and just recently, Studio C and the 6,000-sq. ft. live sound classroom were commissioned for operation.
Studio B centers around a 48-channel Neve VR console featuring Flying Faders automation. The control room features gear from TC Electronic, Alesis, Unversal Audio, Tannoy, Hafler, Manley Labs and more. Like each studio at the Conservatory, the room sports an analog two-inch 24-track recorder and an Alesis HD24 24-track hard disc recorder. The large studio is approximately 1500-sq. ft. and has an 18 ft. ceiling. The room includes a large iso booth giving students the opportunity to record and isolate various instruments or groups of players at the same time.


The Live Sound Classroom is approximately 100x50 feet and features professional staging, lighting and curtains. The ceiling is a full 24 feet, giving the classroom the look, feel and sound of a mid-size professional venue. Live sound engineer Robert Scovill acted as a consultant during construction and Robert also wrote the curriculum taught by live sound instructors Keith Morris and Jim Bender. The gear in the room comes from such respected companies as Soundcraft, Klark Teknik, Community, Atlas and more. The room recently hosted the G5 Live! Project featured in Mix magazine (February 2004 issue).
Photo caption: First Photo: Student works on newly-commissioned 48-channel Neve VR console. Second Photo: Live sound clasroom rocks during Sound Reinforcement clinic.







---

Visit the Headline Archive - See student and faculty profiles, facility spotlights, news and more.
Apply To The Conservatory Online - Our easy-to-use online admissions form makes it simple to get a Conservatory education.