CRAS Upgrades to Pro Tools HD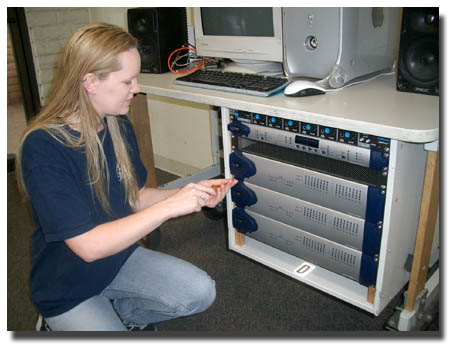 The Conservatory recently upgraded its Tempe and Gilbert locations with the latest hardware and software from Digidesign. The west coast-based company manufactures the Pro Tools digital audio workstation that is found in literally every major recording studio and post production house in the world. Over the 2003-2004 holiday break, the Conservatory purchased 26 brand new Pro Tools workstations.
"Having our students train on the latest gear from Digidesign makes them even more marketable when they graduate, " says Administrator Kirt Hamm. "We go to great lengths to instill in them the importance of basic signal flow and proper workplace etiquette, but at the same time we expose them to the gear we feel gives them the skills necessary to get a job in audio."
Nothing could be truer. In studios from coast-to-coast, Pro Tools is the go-to workstation. Conservatory students leave with a firm foundation in operation of Pro Tools HD along with a Digidesign Certificate of Proficiency. The Conservatory is one of the longest standing educational facilities offering official Pro Tools curriculum originally as an Avid authorized education center and more recently as a Digidesign Pro School. It couldn't be simpler; knowing Pro Tools HD means a leg-up when competing in the audio workplace.

Photo caption: Instructor Beth Johnson installs Pro Tools 96 I/O into one of the school's floating Pro Tools rigs.


---

Students Learn From Matchbox 20 Crew

It is common knowledge that the best way to gain proficiency in a craft is to learn directly from professionals working in the field. This is precisely why Conservatory live sound students often visit the top tours as they come through the Phoenix area. Recently, live sound instructor Keith Morris and top touring engineer Robert Scovill took a group of students to visit Matchbox 20 during their setup at the Cricket Pavillion.

The students were in attendance during the load-in and got to interface directly with the crew as they flew, set up and tuned the system. Conservatory students are all certified on SIA Smaart Live software; the same software used by the Matchbox 20 FOH crew to balance and EQ the house system.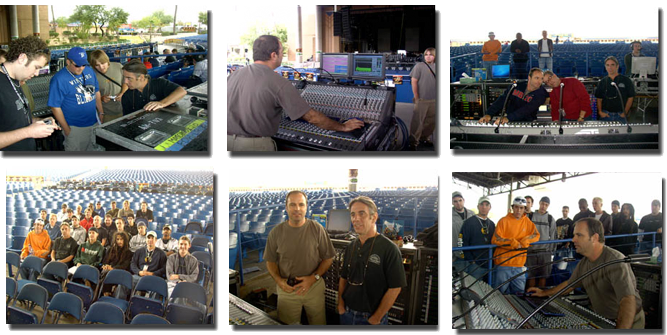 "It's important that our students see and hear how real professionals work inside truly pro environments," says Director of Education Kevin Becka. "Our practice of getting students the experience they need to become employable in audio is what the Conservatory is all about."

You can be a Conservatory student, or compete against one. And seeing how the students are exposed to top level professionals makes a Conservatory education a true investment in your future.

Pictured top: Left: Keith Morris shows students MB20's FOH rack; Middle: FOH engineer Jim Yakabuski setting up; Right: Engineer's Jim Yakabuski, Robert Scovill and Keith Morris at FOH

Pictured bottom: Left: Students take a break from the heat; Middle: Kieth Morris and Jim Yakabuski; Right: Students look on as Jim Yakabuski works.



---

Surround Guru Lectures Students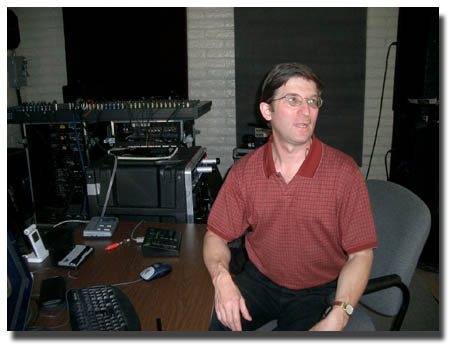 Engineer Mike Sokol has become the 5.1 Johnny Appleseed travelling the country demonstrating and lecturing on the technical and aesthetic pleasures of recording and monitoring in surround. Sokol has published many articles on sound system basics, recording, editing techniques and other topics in professional journals such as computer Video, Electronic Musician, EQ, Radio World and TV Technology. He has also developed the techniques necessary to use an array of four cardioid mics and matrix them into 5.1, 6.1 and 7.1 surround.
It's no wonder Sokol is so busy, surround sound has been one of the hottest audio stories of the last five years accompanied by an ever-increasing array of audio gear aimed at 5.1 surround production and playback. Conservatory students are well schooled in all things surround and leave the school experienced in recording,
mixdown and practice of various techniques used to bring
this exciting listening experience to the consumer.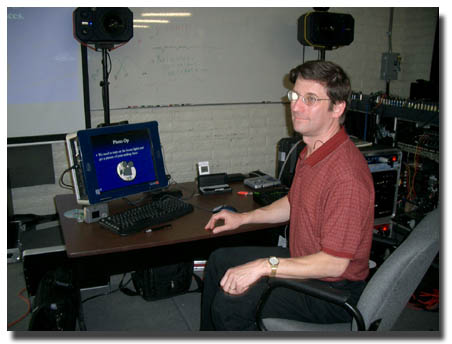 There's no doubt about it, surround is here to stay and is being fueled by the growing DVD and home theater market. A Conservatory education is a sure way to venture out into the world of audio with a sound foundation of these advanced and exciting recording techniques.
Photo caption: First Photo: Student works on newly-commissioned 48-channel Neve VR console. Second Photo: Live sound clasroom rocks during Sound Reinforcement clinic.







---

Visit the Headline Archive - See student and faculty profiles, facility spotlights, news and more.
Apply To The Conservatory Online - Our easy-to-use online admissions form makes it simple to get a Conservatory education.