CRAS Hosts AES Party In NY

Studio owners, engineers, journalists and audio manufacturers had a chance to do some pre-show schmoozing at the Conservatory's AES bash at Le Barbat in New York City. Guests included engineer Joe Chicarelli and Barry Rudolph along with representatives from JBL, Digidegisn, Yamaha, Mercenary Audio and more.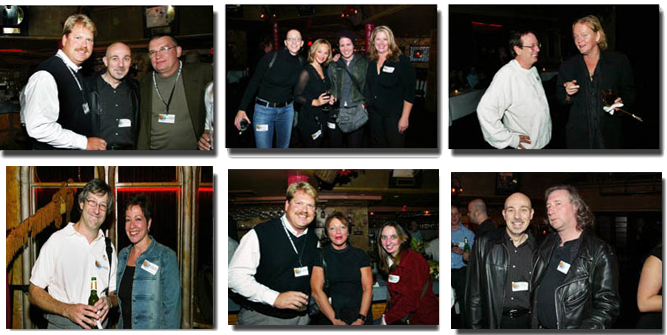 "We work very hard to open channels with the audio community in order to let people know that our students are some of the best and brightest up-and-coming audio pros in the marketplace," says Conservatory Director Kirt Hamm.
Conservatory graduates were also on-hand representing an impressive list of employers including Electric Lady, Unique, The Manhattan Center, Sony and Skyelab studios. "The Conservatory's one-of-a-kind internship program makes us unique among audio schools," says Hamm. "When our students are successful, so are we. That's why we take great pains to place our students in the best facilities all over the gobe."

Pictured top: Left: Kirt Hamm, engineers Joe Chicarelli and Jeff Harris; Middle: Cynthia Smith and Chandra Lynn of Digidesign, Janice Brown of UE Media and Sarah Jones of Mix Magazine; Right: Engineer Barry Rudolph and Jonathan Little of Littlelabs
Pictured bottom: Left: Dave Amlen of Sound on Sound with Michele Kanatous of Mix; Middle: Kirt Hamm with Lisa Young and Audrey Sahl of Giles Communications; Right: Joe Chicarelli with Fletcher of Mercenary Audio.



---

Top Designer Lectures At CRAS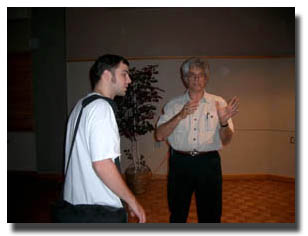 Studio designer John Storyk has quite a history. In 1969, the first studio he built was Electric Lady for guitarist Jimi Hendrix. Since that time, Storyk has had a hand in building over 500 studios for the likes of producer Rick Rubin, engineer Bob Margouleff and composer Carter Burwell.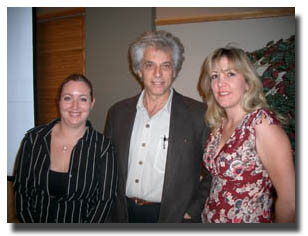 Storyk, a TEC award winner, recently returned to the Conservatory and gave a three hour lecture to an overflow crowd of over 200 eager students. Storyk uses Powerpoint to lay out the basics of design and the physics of sound and then moves on to illustrations and photos of his best work. Students learned about the intricacies of design that only a seasoned professional could offer. Storyk's lecture is part of the ongoing guest lecture series that has brought such luminaries as Rupert Neve, Wes Dooley, Mike Sokol and Eveana Manley to the campus.
Photo Caption: Left Photo: Storyk with Becky Fimbres and Laura Dore of student services. Right Photo: Student talking to John Storyk after his lecture.


---

Students Dig Digico D5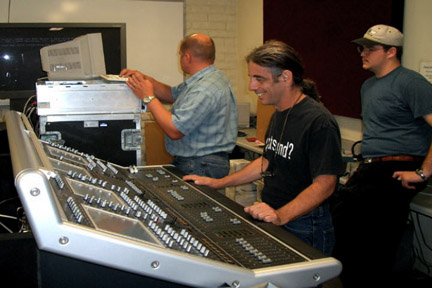 When large road cases show up at the Conservatory, it certainly causes a rise in the blood pressure of the student population. That is not necessarily a bad thing, because it usually means some new gear has hit the classrooms at the school. This past month, students were treated to a hands-on look at the Digico D5 Live Sound Console. Digico is a mainstay on the worldwide concert circuit and is considered one of the best in its class. Live sound instructor Keith Morris took students on a tour of the console during his classes and then a few days later, Taidus Vallandi, director of US Sales and D5 operational expert came to the school to take the console up to warp 9. Vallandi not only works for Digico, but also has extensive touring experience, having toured with Rod Stewart as FOH engineer among others.
The D5 visit is part of the ongoing practice at the Conseratory that brings the lastest gear into the classrooms. "When students see the latest technology and get it under their hands, they can be better prepared to enter the workforce after they graduate" says Director Kirt Hamm. Indeed they can! This year alone, students have seen and used the Lake Contour speaker controller, Yamaha Subkick microphone, Apple G5 with twin 2Ghz processors and various other processors, microphones and assorted studio gear.

Photo Caption: Left to Right; Taidus Vallandi of Digico tweaks the system with Live Sound instructor Keith Morris at the D5 while student looks on
---

Visit the Headline Archive - See student and faculty profiles, facility spotlights, news and more.
Apply To The Conservatory Online - Our easy-to-use online admissions form makes it simple to get a Conservatory education.