Grad Profile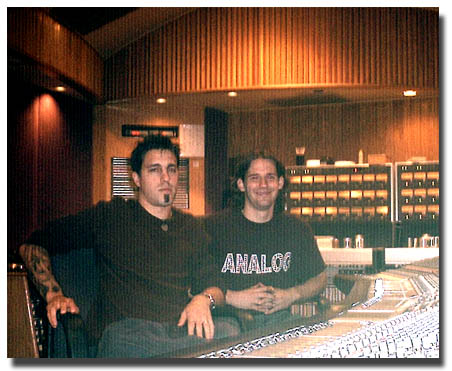 Chris Petro and Jeremy Garrett are loving life in the Big Apple, but it wasn't always that way. When they first got to town they were overwhelmed with the big city. They were questioning their decision to stay in NY but carried on, inspiring themselves with a piece of tape on their bathroom mirror that stated "You Are Here For A Reason". Persistence paid when they first scored an internship and then a job at the fabled Electric Lady Studios. They scored instant points with studio owner Alan Selby when they pulled together the gear setup for a Radiohead live broadcast — on their first day. Chris and Jeremy have both been enjoying working at a studio with such a legacy. First built and owned by 60's guitar icon Jimi Hendrix, the studio has carried on through the years and played host to such artists as AC/DC , Alice In Chains, Bon Jovi, The Stones and too many more to mention.
One of the early tests for Chris and Jeremy came during the power blackout recently in New York. "Studio B, which houses the custom purple SSL 9000 J, is below water level," says Petro. "Once the power went out, the pumps that keep the water out failed and the room started filling in with sewer water." Chris and Jeremy found themselves carrying buckets of the water upstairs to the street in order to save the room and its valuable gear. Talk about paying your dues. "It's all good", added Petro. "It beats cleaning out my mom's stables back in Wyoming."
After putting out 110%, Chris and Jeremy are mainstays at Electric Lady. "It's just like you guys taught us," said Petro. "If you know your stuff and are willing to put in the time, you'll be a success."

Pictured caption: Chris Petro (left) and Jeremy Garrett sit behind the one-of-a-kind purple SSL 9000 J in Studio B



---

Crown Big Rig Visits CRAS






Conservatory students had the showroom brought to them recently when the impressive 65-foot Crown product demo truck visited the campus. Crown regional manager Loren Robinson and program manager Rick Modjeska expertly wheeled the big rig into the Conservatory's parking lot, which immediately created a buzz on campus. As class breaks allowed, students were lined up for tours much to the delight of local Crown rep, Andy Connors. "The students are really asking the right questions", marveled Connors who stood in on several of the demos given by product expert Robinson.

The Crown truck is definitely hi-tech and features amplifier models from the XLS, CE, XS, K, CH, CL, CTS, MA, Studio Reference, and D series. The truck also houses the Crown USM810 and BSS PS810CN IQ processors. Also onboard are all of Crown's microphones and P.I.P. modules with speakers from JBL Pro including the LSR32L & R, Control 25, MP418S and a Studio Center from JBL Consumer. An AMX automation system provides control for lighting and computer/video switching.

The Crown truck visit is part of the Conservatory's guest lecture series, which brings many audio luminaries to the campus. In the past, Rupert Neve, John Storyk, Mike Sokol, Eve Anna Manley, and Wes Dooley have visited the school giving students an unparalleled chance to rub elbows with the movers and shakers in the audio business.

Photo Caption: Pictured top: Students enjoying Crown big rig. Below: Kirt Hamm and live sound instructor Keith Morris inside the rig/Dir. of Education Mike Jones visits with Andy Connors and Crown program manager Rick Modjeska.

---

Preparing For Liftoff







The word is out: The Conservatory's brand new, purpose-built 25,000-sq. ft. satellite campus is about to go online. In preparation, facility acoustician, Jerry Davis, live sound engineer/curriculum designer Robert Scovill and live sound engineer/instructor Keith Morris recently "shot" the new live sound room to determine its acoustic signature. The new live sound "classroom" is a 6,000-sq. ft. room with a 24-ft. ceiling. It will soon house a stage, curtains, FOH position and state-of-the-art gear in preparation for the first class start.
"It's exciting to see this come together," says Administrator Kirt Hamm. "we've all been working hard to make it happen and soon we will be able to expose our students to our world-class curriculum, in a world-class venue.

The new facility will house the school's main office, four studios, classrooms, mix lab and internet cafe, which will allow students to check email and stay in touch with the latest recording info on the World Wide Web. In addition, the school will have an expanded online resource library covering a wide variety of audio topics.



---

Visit the Headline Archive - See student and faculty profiles, facility spotlights, news and more.
Apply To The Conservatory Online - Our easy-to-use online admissions form makes it simple to get a Conservatory education.