Grad Works With Dust Bros.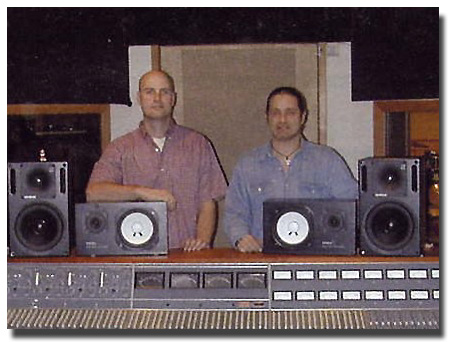 Graduate Danny Kalb walked straight from graduation into a hotbed of music production and a great opportunity to work with a wide variety of industry professionals. Danny is a staff engineer at the now-public production room started by John King and Mike Simpson, a.k.a. The Dust Brothers. Dubbed "The Boat", the studio resides in a freshly renovated "theme" building just outside of downtown Los Angeles. Designed to look like a boat, complete with a moat, the space has already played host to such heavy-hitters as Beck, Amir Derakh (Orgy) and producer Bob Rock. The Boat is stocked with some choice gear including a vintage Neve console, Fairchild, LA2A, Urei and dbx compressors and a bevy of classic mics and processing gear.
When asked what gave him the edge in scoring such a great gig, Danny summed it up in a nutshell. "The Conservatory really gave me a head start on things. In my capacity here, I've had interns from other schools and I have come to realize just how strong the curriculum is at the Conservatory. The industry is really tough now, but the combination of hard work and my education from CRAS has really helped."
The Conservatory's one-of-a-kind internship program is mandatory for graduation and places students in the top industry job sites all over the country. Student Services staffers Becky Bowers and Laura Dore devote their entire day to establishing relationships with the top studios in order to place students in the best situation possible. The bottom line is that you can become a Conservatory grad, or compete against one.


Photo caption: Pro Tools engineer Danny Kalb (left) and engineer Adam Moseley behind the Neve 8028 at the Dust Bros. recording studio in California.


---

Students Learn From Top Touring Pros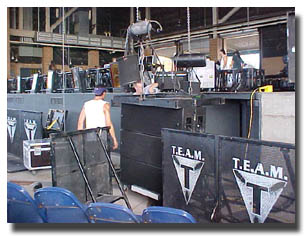 Seventh cycle live sound students showed up bright and early at Cricket Pavilion in Phoenix to witness the audio setup for the Whitesnake/Slaughter/Warrant/Kip Winger concert. Students were treated to a guided tour from Roger Gibbons of Electrotec, the audio company providing the gear for the tour. Gibbons walked students through the complex setup that goes on each time the tour stops at a major venue, including line arrays and lighting being flown down to the setup of the front-of-house position. Early on, students met lead engineer Martin Walker. Walker and Gibbons talked about all the gear involved in making the venue's sound the best it can be. In an unusual turn of events, students were enlisted to help with edits and setup on the Pro Tools system that was being used to record the concert every night. After the PA was set up, the system was aligned using the same Smaart software that Conservatory students use and are certified on in their live sound class.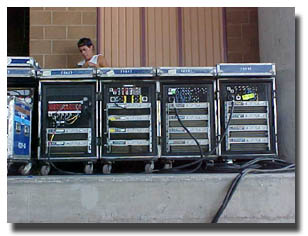 Later that day, Monitor engineer Brian Hendry, who has mixed for many top acts including Tom Petty and the Heartbreakers, gave students a 20 minute talk on his approach on getting work in the industry and how he keeps getting called back for gigs. After the complete tour of the venue was finished, students then stayed for the soundcheck. Gibbons had students walking up and down rows at the Pavilion to give them an idea of the importance of system time alignment.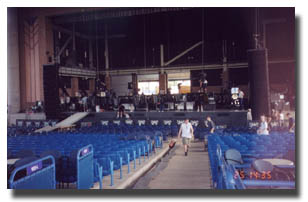 Conservatory student Scott Dall comments, "It was a great overall experience for all the students, even if they weren't into live sound. Everyone in the class learned a lot and was very happy about being there and viewing the technology involved in tour sound. Roger is a great guy and is extremely professional. You can really tell he genuinely cares about the people who work for him. If I were going to seek work in live sound, Roger is the first person I would go to for a job."
Conservatory students are regularly exposed to the top professionals in the audio business. It's experiences like this, in conjunction with an abundance of hands-on and classroom experience that set Conservatory grads apart from their future competitors graduating from other schools.



---

Instsructor Profile: Glen O'Hara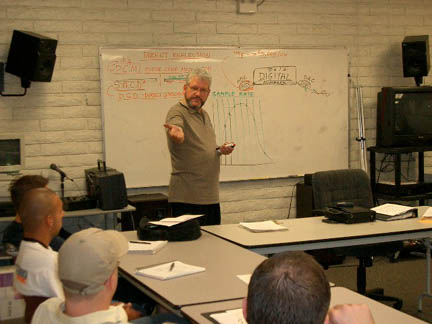 What classes do you teach at the Conservatory?
I teach Cycle 3 - digital audio. We cover how it works, PCM - sample rates, bit resolution, Nyquist, alias, jitter, and more. I also teach Cycle 7, which is Post Production Audio.
How long have you been an instructor at the Conservatory, and what got you started in audio education?
I'm just into my 6th year. Before I was asked to come onboard, I already had some history with the school because I came into (digital dept. head) Brock's Cycle 5 digital class in late 1997, and early 1998 to do demonstrations on digital surround, specifically 5.1 channel music. So when they were looking for a new instructor, Brock called and here I am six years later.
Tell us about some of your work in surround audio
I've worked on several 5.1 music projects as mixing engineer. I produced three DTS Audio Discs, and one DVD-Audio release. In the early 1970's I was doing quadraphonic mixes at Soundmaster Recording in Chicago, just for fun really. There was no robust delivery system for 'quad' at that time, so the format died by the late 1970's. With the implementation of DTS (digital theater systems) and Dolby Digital for theatrical sound in 1993, the digital realm now supported the possibility of getting multi-channel sound to consumers, other than in the theater, which had been delivering six-channel sound in the analog realm since the 1950's. To the detractors of using 5.1 channels for music, I usually ask them why they are not mixing all their projects in MONO.

What are some of the more interesting recording projects you've been apart of?
Going back to the very late 1960's. We had Steve Goodman (who wrote "The City of New Orleans" song that was performed by Arlo Guthrie) in the studio with just his acoustic guitar. We did recordings straight to 2-track analog, with a U-47 on his vocals and a pair of U-89's (i think, or were they 67's?) on his guitar, some ambience added by our EMT plate reverb. That was it. We captured some great folk/bluegrass with such a simple recording. Steve passed away from leukemia in the early 1980's.
What do you find most interesting about the new recording technology that has sprung up in the last few years?
This year (2003), we had opera singers in the studio for nine solid days of recording, performing a newly composed opera project by Dr. Michael Robbins, known as the "Sirius Fire Festival." What a challenge that was! I used Pro Tools, which really helped in capturing such dynamic material. This way I had plenty of headroom for the very loud passages and could let the very quiet "pianissimo" levels just fall down without having to ride the gain to get these quiet passages above the tape hiss. The composer/producer, Dr. Robbins, was ecstatic with the dynamics that our 24-bit recording chain was able to capture.
If you had a time machine and could bring one piece of audio gear back from 100 years in the future, what would that be?
The Laser Holophonic Microphone
Photo caption: Glen O'Hara taking questions on the finer points of surround




---

Visit the Headline Archive - See student and faculty profiles, facility spotlights, news and more.
Apply To The Conservatory Online - Our easy-to-use online admissions form makes it simple to get a Conservatory education.