Playing With Trucks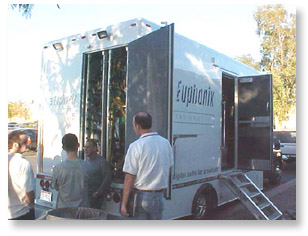 The Conservatory of Recording Arts recently played host to the Euphonix remote truck as part of their 77 city Max Air Broadcast Tour that kicked off in September, 2002. Students, faculty and staff toured the impressive vehicle and had a hands-on close-up look at the new Max Air console.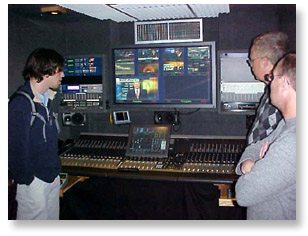 Max Air is the new all-digital broadcast audio mixing console from Euphonix and is the central feature in their specially commissioned tour vehicle. The truck is set up to simulate a local TV news studio audio control room with supporting digital audio and video equipment from a sponsor list that includes Accom, Miranda, Pioneer, 360 Systems, Clear-Com, DK-Audio America, Dolby Laboratories, Genelec, NVISION, TC Electronic, TerraSonde and Wohler Technologies. Product specialists Richard McKernan and Aaron White from Euphonix were on-hand to answer any questions and provide demos of all the latest broadcast gear.



---

Students Sample Symphony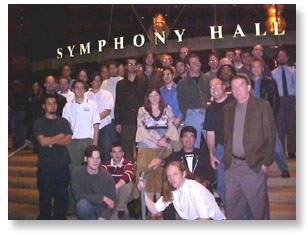 A large group of Conservatory students were recently in attendance at the Phoenix Symphony's "Bach to Bach" concert on January 17, 2003. "The idea of having students witness more live events came out of a discussion with Rupert Neve during a recent campus visit", says Administrator Kirt Hamm. "Rupert strongly believes that listening to only PCM digitized versions of music limits a person's experience, and we agree."
The school has a special relationship with the Symphony by the fact that Conservatory instructor Paul Richards has recorded all the Symphony's full orchestra and chamber concerts for the last three years. Richards approached Symphony Operations Manager, Ed Hurd, and General Manager, Kendra Whitlock, about having a small group of students attend the concert. "They both liked the idea so much that they held 125 tickets at will call for the school," says Richards.
Richards suggested that the students scatter themselves throughout the hall, as opposed to grouping everyone in one section. He then encouraged them to meet in the lobby during the intermission and to switch seats, so they could experience the second half from a different perspective, paying attention to the way the sound changed.
Richards calls the trip a smashing success and has already made plans for future visits. "We've been discussing the possibility of making the Symphony trip a regular student experience, perhaps four times per season.



---

Audio Author Visits The CRAS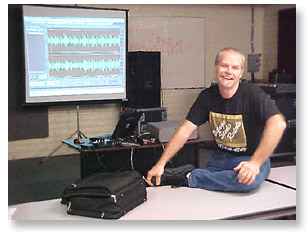 Acclaimed audio author, engineer and musician, David Miles Huber recently returned to the Conservatory as a guest lecturer. Huber treated students to an audio presentation and Q&A, giving them the benefit of his years of experience in the business. Huber is author of "Modern Recording Techniques", "Professional Microphone Techniques", "The MIDI Manual" and "Hard Disk Recording For Musicians". He received a degree in recording techniques (I.M.P.) from Indiana University and also studied in the Tonmeister program at the University of Surrey in Guildford, Surrey, England.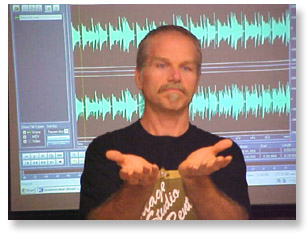 Huber's "Modern Recording Techniques" is now in its 5th edition and is the main text used by instructors at the Conservatory. Administrator, Kirt Hamm: "'Modern Recording Techniques' is the definitive text for audio education, and it's nice that the author thinks so highly of our organization as to provide our students with guest lectures every once in a while," says Hamm. "It's good to be able to say that you have the book, but when you have the author too, that's saying something."
Huber's visit is part of the Conservatory's ongoing audio lecture series featuring a wide variety of industry professionals. Past lecturers have included: Rupert Neve, EveAnna Manley and studio designer John Storyk.




---

Visit the Headline Archive - See student and faculty profiles, facility spotlights, news and more.
Apply To The Conservatory Online - Our easy-to-use online admissions form makes it simple to get a Conservatory education.