Student Stakes Claim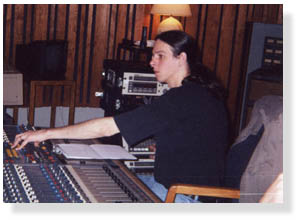 Former Houston-based engineer, Don Devore wanted to become better at his craft, and after looking at a number of schools the 29-year old decided to visit the CRAS to see if it was up to his standards.
What brought you to the Conservatory?
I had been doing some studio work in Houston, but for the most part I was doing a live sound gigs for bar bands and wedding bands but only on a part-time basis. I had heard of the Conservatory but didn't know anything about the program. My wife and I drove from Houston to Phoenix (1200 miles-one way in a day!) where I was able to tour the school and talk with an admissions representative about the program. Once I saw what they had to offer I signed up. I think the thing that convinced me the most was the required internship program that other schools didn't offer.
What made you decide to open your own studio once you graduated?
Well, I didn't just pop out of school and open a huge multi-room facility. I did my internship at Studio X, Seattle's biggest world-class room. I later found out about a studio in town called Ironwood that had more opportunity for advancement, so I finished my internship there. After a few months, a position opened up and I was hired as a staff engineer. I was in the right place at the right time. It turns out that the current owner was ready to retire. He made me an attractive offer that was hard to refuse, so I took over the operations of the studio.
What kind of clientele do you attract in Seattle?
A wide variety of talent including local jazz and rock bands, major record label projects, radio jingle/voiceovers, singer/songwriter demos, the Seattle Symphony and projects from independent engineers and producers.
Devore's current gear setup is a mix of new and old including a vintage Neve 8248 console, Studer A827 2" machine, Pro Tools Mix 24 and outboard gear from Lexicon, Manley, Summit, Aphex and dbx. He plans to add a new room featuring a new Pro Tools|HD rig soon. When I asked him what the most gratifying part of working in audio was he quickly replied. "Helping people create music. And getting paid for it."



---

NAMM Rocks!

Once each year, Winter NAMM rocks the Anaheim Convention Center near Disneyland featuring a collection of rock stars, instruments, recording gear and parties. This year, Carlos Santana, Eddie Van Halen and Tom Scott and friends jammed on the show floor and if you were quick enough to get tickets, the opening night featured an all-star NAMM concert starring Elton John, Nora Jones, Brian McKnight
and more.



The CRAS was there in force with a group of current and former grads, friends and instructors seeing what this year's show had to offer. The Conservatory is very pro-active in developing curriculum around the gear that's currently being used in the recording industry. The pictures you see on this page are just some of the friends the school has made over the years.


Photo caption: Kirt Hamm of the Conservatory visits, Left : Bob Reardon and Pete Carty of Waves; Middle: drummer Steve Ferrone and Joel Singer of Audio Technica; Right: Mark Pappakostas of Digidesign



---

Cassandra Scores Scholarship


Cassandra Henson, a 20-year-old student at the Conservatory of Recording Arts and Sciences in Phoenix, AZ, was recently awarded a $1000 tuition scholarship. The scholarship was sponsored and presented by EMTEC, the world's leading audio/video tape manufacturer and distributor.

According to Kirt Hamm, Administrator of the Conservatory of Recording Arts and Sciences, the scholarship was awarded based on the strength of Henson's essay entitled "Only One Chance." EMTEC and the Conservatory reviewed close to 100 essays before selecting Henson's as the winner on December 9, 2002.
Hamm praised Henson's work as a student at the Conservatory. "Cassandra was a good student," Hamm stated. "She worked hard to achieve her goals while on campus and was very much appreciative of the scholarship and the opportunity it afforded her," Hamm also praised EMTEC for their commitment to helping students pursue their dreams in the recording industry. "We are extremely happy to have a such a good relationship with a quality company like EMTEC," Hamm said. "They believe in the recording industry and in the future as evidenced by this scholarship."

Ms. Henson is currently completing her internship with KQRA radio in Springfield, MO and is working as an Assistant to the Production Director. She is scheduled to graduate in February 2003. Cassandra's ultimate goal after graduation is to work as a producer in Los Angeles, CA. "I have come to live in a world where music is everything," Henson said. "My environment may change, but music will always be my true reality."



---

Visit the Headline Archive - See student and faculty profiles, facility spotlights, news and more.
Apply To The Conservatory Online - Our easy-to-use online admissions form makes it simple to get a Conservatory education.