Rupert Returns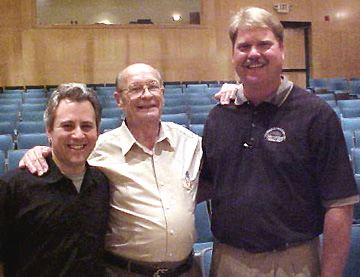 On Wednesday, November 20th, audio legend Rupert Neve once again visited the campus of the Conservatory of Recording Arts & Sciences. This was his second visit in as many years, and his visits promise to become an ongoing occurrence. Neve toured the campus, and visited with students attending class during the early part of the day. In the afternoon, the entire student body adjourned to the auditorium of the Arizona Historical Society in Tempe for a formal lecture from Neve. Among the topics of Neve's lecture was his theory on the positive physiological effects of extended bandwidth. He also intimated to the audience that a new line of products created in conjunction with Taylor guitars will be announced at the Winter NAMM convention in Anaheim, CA. According to Neve, there will be a completely innovative pickup design and significantly improved pre-amplification featured in the new guitars. Neve, who recently became a US citizen, was born in England, raised in Argentina, and proudly claims Wimberley, Texas as his home now.

Photo caption: (left to right) Kevin Burgin, Rupert Neve and Kirt Hamm of the Conservatory



---

On Stage With Petty

On Saturday, November 2nd, Tom Petty & The Heartbreakers made a stop on their "Last DJ" national tour at Cricket Pavilion in Phoenix. At the front-of-house mix position was world-renowned live sound engineer Robert Scovill. As is always the case when a Scovill tour comes to Phoenix, students from the Conservatory of Recording Arts & Sciences were invited to shadow Scovill during the setup and tuning of the audio system. Scovill developed the Conservatory's live sound curriculum several years ago, and very much believes in the idea of presenting information to the students as directly as possible. As a result, he has graciously allowed students to learn from him by shadowing during literally every tour on which he has come through Phoenix. "It's very much in line with our philosophy of hands-on training and internship", said Kirt Hamm, Conservatory Administrator. "We are cognizant of the fact that sitting in lectures and reading books alone simply do not accomplish the educational goals of our students. We insist that they roll up their sleeves and pitch in to really plumb the depths of understanding."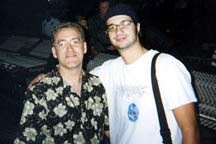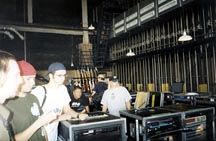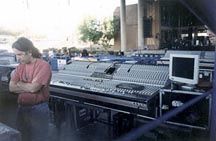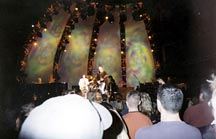 On the day of the concert, Scovill presented the students with a working lecture through the process of live sound. Starting with the physical setup and arrangement of the V-DOSC line array loudspeakers to the monitor console and then finally the front-of-house position, the walking tour enabled Scovill to discuss and explain the entire live sound process. The students were treated to a demonstration of SIA-SMAART system tuning, with Scovill making micro-tweaks in phase delays and spectral content to tighten and clarify the sound in the venue. The students were also allowed to stay for the sound check with opening act Jackson Browne.

Scovill has also invited Conservatory students to be present in this fashion at concerts of artists like Rush, Foreigner, and matchbox 20.



---

Grad Digs Brit Gig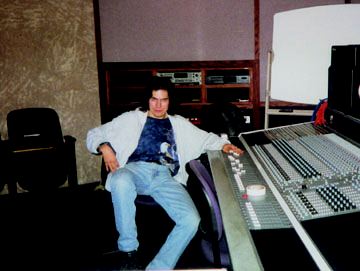 You're from Germany, what brought you to the Conservatory?
I talked to several engineers and other people in the business and they told me if I really wanted to learn about engineering, I had to do a course in the US, since I wouldn't get a good education for that in Germany or anywhere else in Europe.
Did you try other schools? What made you decide on the Conservatory?
I found the Conservatory on the Web and it looked to me to be one of the best schools for engineering. Even though the Conservatory is expensive compared to European schools, it was still far more affordable than Full Sail or Berklee.
What classes helped you most once you got into the process of looking for a job?
I would say, especially Signal Flow, MIDI and Music Business.
What did you like most about the school?
The best thing for me was, that it is open 24 hours each day, so if you really want to learn a lot, you have the opportunity to do so.
Where are you working now?
I'm currently at Stanley House Studios in London. Apart from assisting on sessions, I spend a lot of time working for the Stanley House Music publishing company and running a programming room.
Who have you been working with?
Blue (boyband like N'sync), Atomic Kitten and Pete Craigie (one of Virgin Records main mixing engineers).
What do you like best about your current job?
I enjoy running the programming room at the studio and especially the technical side of my work. I like publishing as well and I'm looking forward to getting into this more.
What are your goals? If you could have your dream job, what would it be?
My knowledge from the Conservatory has given me lots of opportunities in different sectors of the industry. My foot is in the door now and I'm looking forward to increasing my knowledge as I grow in my career.




---

Visit the Headline Archive - See student and faculty profiles, facility spotlights, news and more.
Apply To The Conservatory Online - Our easy-to-use online admissions form makes it simple to get a Conservatory education.