The CRAS Hosts Designer Storyk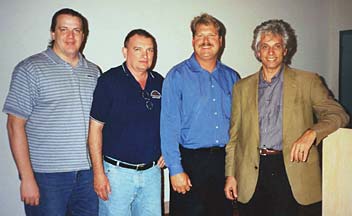 On October 24, 2002. world-class studio designer John Storyk of the Walters-Storyk Design Group visited the CRAS campus to tour the facilities and present a lecture to students and faculty. Storyk offered an overview of acoustic theory and studio design including: the importance planning, principles of isolation, and using symmetry, absorption, and diffusion to achieve good internal room acoustics. "It's great to see someone like John giving back to the audio community by sharing his knowledge," says Kirt Hamm, Conservatory of Recording Arts & Sciences administrator. The event was attended by several hundred students and faculty and is the latest in a long-line of presentations at the Conservatory by prominent industry leaders including Mr. Rupert Neve, Eric Blackmer, Wes Dooley and EveAnna Manley..

Photo caption: (left to right) Instructors Brock Roberts, Jeff Harris,
Chief Administrator Kirt Hamm and John Storyk



---

Grad Hired By DTS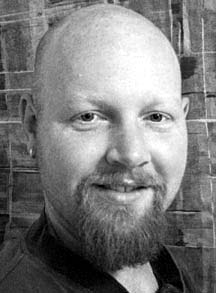 To say that Jason Vreeman's life has been interesting would be an understatement. He has been involved in audio production since he was 14 years old, starting by hanging out around the construction of a radio station/recording studio in Paraguay, South America. From there, he hooked up with some local musicians and did some sessions, playing guitar on some albums that were cut there. Several years later, he built a small recording studio in Quito, Ecuador. The studio used older analog equipment, which he learned to love, eventually branding him a true "analog hound."
After returning to the United States and completing college, Vreeman realized that although he had considerable recording experience, he needed to ground himself with a solid audio education in order to advance his career. "I entertained quite a few schools when I started looking." Says Vreeman. "Columbia, in Chicago, was the obvious choice if I intended to stay in the area. I also checked out Full Sail and the LA Recording schools, but talking with some of the studio engineers in Chicago I was pointed toward The Conservatory Of Recording Arts and Sciences, in AZ."
Vreeman checked out The CRAS web site and his initial reaction to the school was very positive. But he was most impressed when he called various studios around the country and asked about the CRAS graduates working there. Vreeman: "There was nothing but compliments across the board. It seemed that CRAS graduates tended to perform better than many of the graduates from other schools. Many graduates found work and launched careers because of the education they received at the school."
Once Vreeman got into the program, he appreciated the no-nonsense and comprehensive approach to education. "The tools needed to succeed are taught, but it is ultimately left up to the student to work his/her ass off to make it happen." He says. "As far as curriculum, there isn't any one thing that doesn't excel. Everything from Music Business to Post Production; Tape Alignment to Digital Audio is all extremely valuable and exceeded my expectations."
Upon graduation, he was considering a job back in Chicago as a production engineer with a cable television station, when faculty member Glen O'Hara encouraged him to forward a resume to DTS. The company was a perfect fit for Vreeman's interests. DTS provides 5.1 and 6.1 digital audio for theatrical and DVD releases. The first movie done in DTS was Jurassic Park. DTS is also the creator of CSS, which is a closed captioning concept for theaters. DTS also is a major player in the DVD-A format (DVD-Audio). Through their label, DTS Entertainment, they have released 5.1 recordings for such artists as Queen and Graham Nash. As luck would have it, an opening was available and Vreeman immediately flew out to LA for an interview. After meeting with a large number of the DTS staff, he knew that this was where he wanted to be. A number of weeks later he received a call with a job offer and packed up the family for Los Angeles.
Vreeman's official title is Studio Services Engineer / Transfer Technician. He is responsible for the digital transferring of the 6-track audio and the creation of the DTS disc that is played in the cinemas. His job is quite involved and he likes the challenges. Vreeman: "I am given the 6-track in a variety of mediums (hard drive, 35mm mag, DTRS, or MO) and I perform the encoding transfer through a DTS transfer tower. The encoding process filters the surrounds and folds the sub information into the surround data, which is ultimately extracted and decoded by the DTS player located at the cinema. I must pay special attention to sync issues, so once the disc has been created I head out to the studios (Warner, Disney, Sony, Universal, etc.) and check the audio with the print to ensure proper sync and the lack of any undesired audio anomalies. I also am responsible for ensuring that the players at the studios are working properly."
Vreeman loves his job and sees himself staying there for quite awhile. "If I were to move, I would hope I could move up within the company and maybe even learn the DVD-A mastering side. The technology is amazing and definitely a stepping-stone towards the future of audio. I also have ambitions of ending up on a final dub stage and mixing the stems for the final 6-track. Who knows? The sky is the limit!"



---

Elise Thomas Finds Success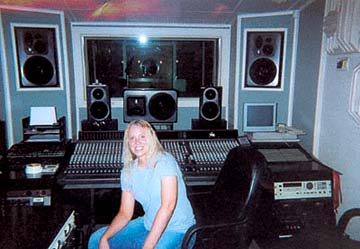 Age: 24
Hometown: Tooele, UT (Salt Lake City)
Last School Attended (before The CRAS): Salt Lake Community College
Last Book Read: 5.1 Surround Sound By Tom Holman
Favorite CD: Anything produced/written by Jimmy Jam and Terry Lewis.
What made you decide on the CRAS for your education?
The affordability of the program, studio hands on time, small classes, Pro Tools certification and the fact that the school is open 24/7.
What was your engineering/musical background before you went to the school?
I was mainly into songwriting. I was interested in electronics and computers and wanted to find a job that dealt with both. So engineering was the best route - I love it.
What's the most important thing you brought out of your experience at the school?
Determination is the main thing, if you have that, you can go far. I was there at school all day and all night learning all I could about the equipment and Pro Tools and it has paid off. I'm still like that at work - I never want to leave. Right now I've prepared myself and I've been patient in letting things happen.
Tell us what you're doing now and who you've been working with?
My last session was a lot of fun. I assisted with production for a hip-hop artist named Nas. He's had a lot of success. I've also worked artists signed to this studio's record label. A lot of pop and R&B groups like C-note and Natural. Also, I worked with Eric Schilling, one of the hottest engineers around. He's worked on a lot of great music and it's great to watch him mix songs - being able to assist him is worth my schooling right there.
What do you like most about your career in audio?
Getting to do a job that's also my hobby. It's great to get paid for something you love. You get to meet a lot of interesting people and learn from them. I also love the fact that you can never learn enough. You can always get better.
What is your dream job? Who would you most like to work with?
Eventually I want my engineering to turn freelance so I can concentrate on my songwriting. I really want to get a publishing deal because my real love is just being able to write songs all day. I would love to work with Jimmy Jam and Terry Lewis - doing anything. I always enjoy their songs and can just vibe with their style and production.
Where do you see yourself in five years? What are your goals?
I envision myself being able to realize my goals. If I'm determined enough and prepare myself, I'll make it.




---

Visit the Headline Archive - See student and faculty profiles, facility spotlights, news and more.
Apply To The Conservatory Online - Our easy-to-use online admissions form makes it simple to get a Conservatory education.