The CRAS Makes Splash At HOB

This year, the venerated House Of Blues in Los Angeles played host to a pre-AES industry bash sponsored by the Conservatory of Recording Arts. Most of LA's studio elite was in attendance, along with a number of equipment manufacturers, composers, and Conservatory graduates. "We love to get out and interface with the industry", said Kirt Hamm, Conservatory administrator. "It's easy to lose sight of why we do what we do, but to rub elbows with our successful graduates on their home turf is a very powerful reminder to us of why our work is so important and worthwhile."
The event has already borne fruit for the benefit of Conservatory students. "We've already had four new studios approach us about having our students as interns. They talked to other studio managers that already take our students and were so impressed that they now want them for their own organization," said Hamm, who has expressed excitement at holding another similar event at the 115th AES Convention in New York City next fall.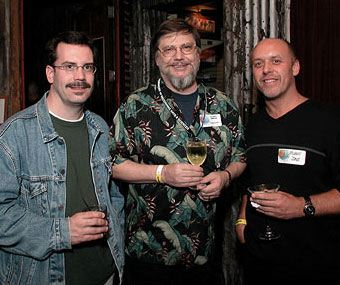 (l to r) ER mixer Mark Cross, engineer Mike Farrow and
Director of Education Michael Jones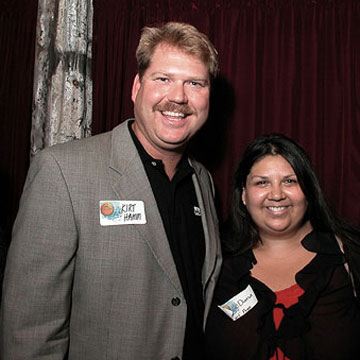 Kirt Hamm with Diana Nitz (Front Page Studios)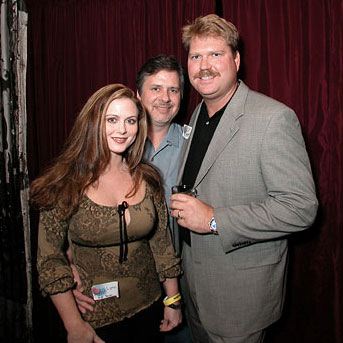 Lynn Carey Saylor and her hubby Skip
(Skip Saylor Studios/Devonshire) with Kirt Hamm
---

AES 2002 Show Brief

The annual AES Convention is the audio industry's chance to bring out its brightest and best new products for the world to see. This year, the show fell in Los Angeles and was a huge success, bringing in manufacturers and audio professionals from all over the world. The CRAS faculty, staff and students were heavily in attendance this year making for many show-floor reunions and chats about the exciting new gear and educational opportunities at the show. The following photos are just a few of the highlights from the event.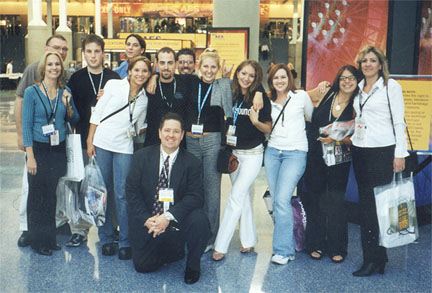 Photo caption: Staffers Julie Shaw, Jeff Harris (left), John McJunkin (front and center) and Laura Dore (right)
sandwich a group of CRAS students attending the show.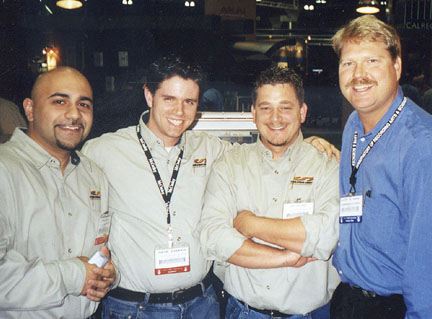 Photo caption: (left to right) Studio Network Solutions' Pedram Ranjbar, Nate Cooper, Gary Haladay and
the Conservatory's Kirt Hamm share a smile and some chat about their hot new Fibredrive
unveiled at the show. Ranjbar and Cooper are both CRAS grads.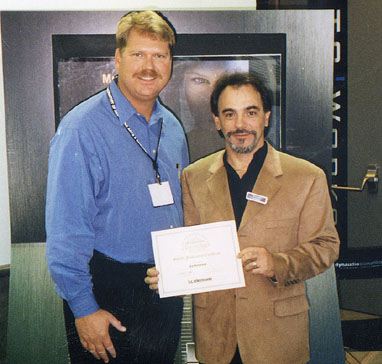 Photo caption: Kirt Hamm and Ed Simeone of TC Electronic. Simeone holds the S-6000 certification
award that participating students receive upon completion of the school's program.
---

Grad Gets "Unique" Start In Audio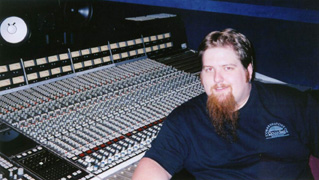 As a kid in Maine, Doug Robertson had the unique experience to accompany his father, a professional radio talent, to work and begin his education in the pro audio realm simply by watching his dad perform. After a few years of his dad's tutelage, he quickly became a live sound engineer, running and repairing the sound system at church. From there he started to travel with his father's band running sound for them when he was just 12 years old. Word spread quickly. Robertson soon was getting calls from other bands and clubs asking him to run front of house sound for them. From the money he made, at age 16 he and a friend opened a small project/demo studio and a sound system rental company.
"I knew there was more for me to learn, so I turned to The Conservatory of Recording Arts and Sciences," Robertson continues. "What sold me on the Conservatory was that they offered Pro Tools certification. That wasn't available from any other school, so I just figured I got lucky and got accepted to the best school right off the bat. I knew a lot when I went to the Conservatory, but they took me to the next level."
After graduation from the Master Recording Program, Robertson landed at New York's famed Unique Recording where he quickly jumped into the engineer's chair. "I engineered a number of sessions during the four months that I served as an intern at Unique Recording," Robertson explains. "After six weeks of interning, I was put into the rooms as an unpaid assistant until I passed a written and a practical exam on everything from studio etiquette to paperwork procedures and studio skills. After passing the tests I started getting paid for doing what I did at Unique."
Since then, Robertson has worked with many famous artists and producers. His resume includes being 2nd engineer on Pink's first multi-platinum album, working with Perry Farrel, Rick Derringer, Leslie West, Vernon Read, MethodMan, Wu Tang, Ruff Ryders, Nelly, Lil' Kim, and many more. He is currently working on a project with rapper Royal Flush and regularly works with producer Dino Danelli. He also producing newcomers Arizing and is tracking and recording Dominick 's new album.
According to Robertson, Bobby and Joanne Nathan, owners of Unique Recording, have given him many opportunities and encouragement when he was an intern that really helped to develop his skills. "Between Bobby, Joanne, Caleb, the entire staff at the Conservatory, and my Dad of course, there's no way I could be where I am today."




---

Visit the Headline Archive - See student and faculty profiles, facility spotlights, news and more.
Apply To The Conservatory Online - Our easy-to-use online admissions form makes it simple to get a Conservatory education.